Kianna King to Cal Poly for veterinary
Gliding with perfectly synchronized choreography, Kianna King moved across the dance floor as the audience rumbled. Much like the efforts put forth in her dancing, King heavily dedicates herself to chasing her studies and ambitions. A skilled dancer, passionate animal enthusiast, and future woman in STEM, senior Kianna King is preparing to make a move to the prestigious university with the iconic mountainous backdrop: Cal Poly Pomona. This university close to home is widely acknowledged for creating countless successful graduates while preparing students for the real world with their "learn by doing" approach. Kianna King will be well-prepared to prosper when she attends Cal Poly Pomona this fall.
TV shows featuring animals filled King's youth, inspiring her to pursue veterinary in her future. King's major is currently undeclared, however she plans on veterinary science. As an animal lover, King plans on becoming an owner to all pets. Whether it is dogs, cats, pigs, or even ducks, King is excited to provide a home for animals of all kinds. Surrounded by animals, King had a clear idea of what she wanted to pursue.
"Ever since I was little, I liked animals a lot," King said. "I was always watching animal shows and I wanted that to be part of my life. That's a big part of what inspired me."
Cal Poly Pomona was an easy decision for King. The nearby school has fantastic opportunities for STEM and a beautiful campus. A time full of exploration and adventure, there is an abundance to be excited about. From forming lifelong friendships to enjoying college life, King is ready for it all. With her love for extracurricular activities, King is excited to be on campus, join sororities, and to join a variety of clubs. College life at Cal Poly Pomona is calling King's name, and she will be ready to leave CHS behind to venture forward into this new chapter of her life.
Although she is ready for the fall, King leaves behind advice and memories from CHS. King explains that dancing has always been a pedestal in her life and some of her most fond memories originated from Wolfgang– the former CHS dance group. She will miss attending the rambunctious rallies and dancing alongside her friends. A memento from her experience at highschool, King offers important advice to freshmen.
"Just focus on yourself and your grades," King said. "Don't be worried about other people, just work hard and get your requirements done and make sure you're ready for college."
Before King says her final goodbyes to the halls of CHS, she wants to recognize and appreciate the people who have supported her throughout it all. She wants to thank her teacher Ms. Laura who has offered her advice and consultation, always ready to help. King would also like to thank her best friend since seventh grade, Taylor. Lastly, King would like to shout out her family for supporting her since she was born and helping her through her time at CHS. King is ready to leave the grounds of CHS, and is sure to go on to pursue great success at Cal Poly Pomona.
Hello there! Our goal is to provide relavent, engaging journalism for readers of all ages. Your donation will support the student journalists of the Wolfpacket at Claremont High School, and will allow us to purchase equipment, print our monthly issues, and enter in journalism competitions. We appreciate your consideration!
About the Contributor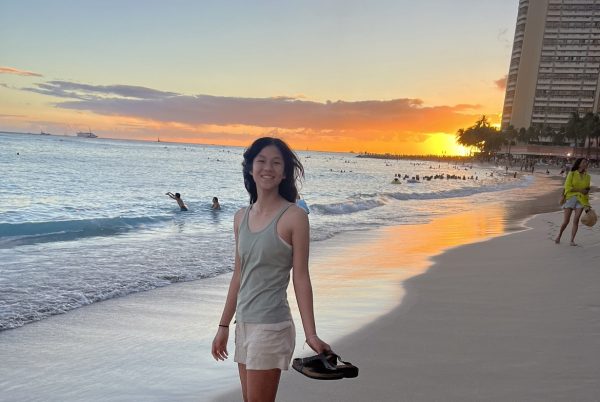 Isabelle Shie, Head A&E Editor
Isabelle Shie is a Junior at CHS and the head A&E editor at The Wolfpacket. Her favorite ice cream flavor is Mint Chip or Wild And Reckless Sherbet. She...