SATIRE: The mysterious Batman fights local crime at CHS hallways
Across the country, crime is on the rise, especially in Claremont High School, where students frequently litter, disrespect teachers, and cheat on tests. It is a place in need of saving and only one man can save us. A man in a bat suit with a voice as gravelly as Louis Armstrong on steroids.
"Well, first of all, I'm depressed," Batman said. "So I like to destroy my vocal cords. It's my way of coping. Also, I have to hide my identity because obviously if I talk like this, then they'll know I'm Bruce Wayne."
Oh wait, maybe everyone should forget that and call him by his preferred name: Vengeance
Many of you have seen Batman roam across the halls of CHS, fighting crime and hunting after criminals (like the Joker). You may even be one of the hundreds of people who have been awarded the privilege of taking a selfie with him. Or maybe even one of the hundreds of students and teachers who made his life a living hell while this god walked among us.
"Every single period I walked into was the most awkward situation I've ever been in my entire life," Batman said. "I would walk in and I had to take off the mask so people knew who I was. I'm sorry, but I had to because the teachers didn't allow it. I took off my mask and everyone just stared at me for like three minutes straight. No words. Nothing. The teachers didn't even say anything. They didn't even care. Well, some teachers I remember did. I walked into fifth period for Mr. Tucker's biology class and nobody said a single thing. I just sat at my desk and I was sweating because I was so nervous and so awkward. I probably never want to relive that again."
Many of you may think that you are not in need of saving…some of you may even be patting yourselves on the back as idyllic AP or IB scholars near the top of your respective classes with credentials that would make Ivies drool. Unfortunately for you, Batman disagrees.
"The people that go to the school are rotten," Batman said. "They're disgusting and I need to save everyone. Also the kids. The way they treat the teachers is awful. I need to just line things up and just save everyone and just help the community of Claremont High School."
Talking to Batman was an interesting experience to say the least. Hearing his angelic voice was like music to my ears so I tried to impress him by doing my impression of it. Sadly for me, he told me that it was terrible and that his voice was untouchable. I was crushed that he was disappointed and simply had to move on with my life. That way I could ensure that I would not end up depressed like him and having to resort to wearing a bat suit and beating the crap out of criminals to make myself feel better. Maybe a taste of Alfred's rotisserie chicken could help cheer me up.
"You have no idea how good Alfred's rotisserie chicken is," Batman said. "It is literally 10 out of 10. You know, the rotisserie chicken at Walmart, right? Not even close. It is garbage."
Many of you may think that a grown man dressed in a bat suit is strange to put it lightly. Maybe he forgot that Halloween only comes once a year or that he is literally a playboy billionaire with a mansion and lots of fancy toys. Some of you may even go as far as to question the man's level of intelligence. But I can assure you that the Caped Crusader is intellectual beyond the imagination. If he was not, he would surely be dead in situations like the following:
"One time where tons of kids, like I'm talking maybe 15 kids rolled up on me and they're like, 'Ohhhh, Vengeance!'" Batman said. "It was like a whole mosh pit with tons of people around me. Then out of nowhere, there was a separation in the crowds. True story. And this guy pulled up and didn't look like the Riddler, but he said 'I'm the Riddler' and then we were like, 'Ohhh!' Then the entire crowd was freaking out. And then we had a fight, but not a real fight. We had a verbal fight and I was solving riddles."
Even though there are plenty of people who roam across the campus, ganging up like packs of wolves and thinking that it is cool to still talk like Mordecai and Rigby from "Regular Show", the Batman still has faith in the people of CHS. No matter how much of a jerk a student can be, he believes that everyone deserves to be saved. Even the kid who threw his Doritos bag on the floor.
Some see Batman as a hero and others see him as a suppressed incel in a bat suit who cannot seem to get his love life in order. This Batman, on the other hand, changes with the times and is taking steps to get better at this. He even went as far as asking Catwoman, who also made a cameo at CHS, for her number. Unfortunately, things went sort of south for him.
"The problem is that I have a very hard time talking to women at all," Batman said. "I actually have very big girl issues. I shake and sweat when I talk to girls. So when she rejected me and she left and she gave me the fake number, I was depressed and I still am depressed."
Before he put on his mask prior to the interview, I got a glimpse of the enigmatic, broken man beneath it all. There were a lot of intriguing features to say the least: an abundance of hair, an intimidating stare, a wrinkled forehead that slots perfectly with the mask. An excess of eyeliner that creates an uncanny similarity to The Cure's Robert Smith?
"When I was young, I was extremely emo and I still am kind of emo," Batman said.
"And I love The Cure. And I was addicted to The Cure. I used to listen to them. I used to cry when I was in the hall when it's darker. And then I was putting on my mask as Vengeance and when I'm Batman, I'm just going to look stupid if I just have like just white eyes. I gotta make everything black. I'm going to do eye shade because I want to be emo and also to hide my identity better and also because it looks cooler."
At least he has found a way to improve his look beneath the mask because beyond its purpose to conceal his not so secret identity, the mask is the reason he cannot control his feet for his life.
"My mask didn't fit my face. I didn't have peripheral vision, so I just saw one way. When I was walking, I couldn't see below either. It was just a straight line like binoculars. So I actually would like, for real, trip on stuff."
Perhaps this is the reason why he could not reach the track sprinter speeds of the Joker after the Clown Prince of Crime threw a fart bomb in the restroom of the 800s quad and successfully ran away. Or maybe there is a deeper lesson for everyone to learn.
"The week that I came to Claremont High School, I didn't do my daily workouts," Batman said. "I also wasn't expecting him there. When I was running, I thought I had him, but then I started to get worried because I'm running out of stamina, you know? So then he turned that corner and that's when it hit me. My abdomen started to burn because I don't drink enough water. You know, I've just been depressed lately to be honest. I'm Batman, so what do you expect?"
Hopefully Batman can redeem himself in the future and rightfully punish the CHS criminals, bringing them to justice. For now, he blends among us as a regular student, constantly in anticipation for a potential return to keep CHS safe and sound. Until then, he is working on business ventures and hopes you can join him on his other lifelong calling to produce quality content for all to enjoy.
"I'm actually the CEO of Mateo Industries, which is the company that produces all these movies," Batman said. So if you want to apply for Mateo Industries, just contact me."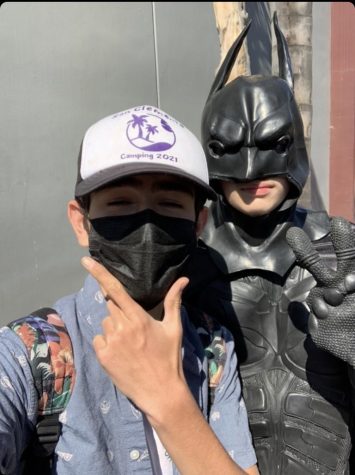 Below A transcript from the interview:
David: Pleasure to meet you, Mr. Batman.
Batman: My name is actually Vengeance.
David: Oh, my bad, Vengeance. There's plenty of crime all over this city, all over this country. Why'd you pick CHS of all places to focus.
Batman: Because for multiple reasons. First of all, I heard that the Joker goes to this school and he's my number one target. Also the people that go to the school are rotten. They're disgusting and I need to save everyone. Also the kids. The way they treat the teachers is awful. I need to just line things up and just save everyone and just help the community of Claremont High school.
David: You're a Playboy billionaire with tons of gadgets in a huge mansion. Why do you run around dressed like it's Halloween?
Batman: Because when I was four years old, my dad bought me a baby bat because he's rich. And he was like, "son, I want you to have a bat because they're the most interesting, fascinating creatures." I've always loved bats since then, until one day I saw a homeless man being beaten up by a rich guy and he was just stealing money from him. I'm like, why do you need money from a homeless guy? Well, he was just a jerk and he was just taking money from homeless people. So I was like, you know what, I need to fix this. So the first thing I thought of was, well, people can't see my face, but I'm not just going to put on a mask like an ordinary mask because that's boring and also I look like an idiot. Right? Well, I'll look more stupid in a bat costume, but then I thought of my dad and the bat that he got me when I was little and then I thought, and I thought, wait, I could be a bat, like as a human, I could dress as a bat. And I was like, that's perfect. So I made my own custom Batman costume and I was running around with it for years and it was amazing. So yeah.
David: You have a very distinctive voice. Like, how do you pull it off?
Batman: Well, first of all, I have multiple types of voices. Right now is my normal talking voice. This is my talking to a criminal voice and then that's about it. Those are my two voices, because if I do the "talking to criminal" voice for too long, my throat will blow up. And also because it's not necessary because you're not a criminal. You will never touch my voice cause I have the best voice here out of everyone.
David: So do you secretly have throat cancer or do you just like destroying your vocal cords?
Batman: Well, first of all, I'm depressed. So I like to destroy my vocal cords. It's my way of coping. Also, I have to hide my identity because obviously if I talk like this, then they'll know I'm Bruce Wayne.
David: You seem pretty close to the camera, man. How'd you meet him?
Batman: My cameraman is actually my homeboy. I can't reveal his name even though his name was in the credits scene. He is my homeboy. We do everything together and he records me fighting crime and it's just good to have a recording of everything. Just so you could, if I ever get an illegal situation, you could just show the jury or whatever it's called the judge or I don't know anything illegal. And then boom, there we go. And then we have video evidence.
David: What are your thoughts as you are preparing to host Wolfcast?
Batman: I'm very excited for that because finally the entire school will see Batman and they'll finally understand that I am their savior.
David: Is Alfred's rotisserie chicken and turkey good?.
Batman: The school lunch doesn't even come close to it. You have no idea how good Alfred's rotisserie chicken is. It is literally 10 out of 10. You know, the rotisserie chicken at Walmart, right? Not even close. It is garbage.
David: So how's it going with Catwoman? Are you still suppressing your obvious attraction? Or are actually making a move for once?
Batman: The problem is that I have a very hard time talking to women at all. I actually have very big girl issues. I shake and sweat when I talk to girls. So when she rejected me and she left and she gave me the fake number, I was depressed and I still am depressed.
David: You think Kurt Cobain would be proud of you?
Batman: I am actually a humongous fan of Kurt Cobain, and I hope that he's proud of me. You know, up in heaven, he is hopefully proud of me. Rest in peace.
David: What is the most random moment you've had roaming across the halls of CHS?
Batman: One time where tons of kids, like I'm talking like maybe 15 kids rolled up on me and they're like, "Ohhhh, Vengeance!" And like all like, like a whole mosh pit, tons of people around me. Then out of nowhere, there was a separation in the crowds. True story. And this guy pulled up and didn't look like the Riddler, but he said "I'm the Riddler" and then we were like, "Ohhh!" Then the entire crowd was freaking out. And then we had a fight, but not a real fight. We had a verbal fight and I was solving riddles. And that was the most random thing because I was literally just walking, looking for people to beat up.
David: Are the people of CHS worth saving?
Batman: Everyone deserves to be saved. Even if you are the biggest jerk of all time, like that one litterer that just threw his Doritos bag on the floor. Everyone deserves to be saved.
David: While you were trying to catch up to the Joker, you failed to do so and defeat him. My theory is that you skipped leg day, but what actually happened?
Batman: Basically the week that I came to Claremont high school, I didn't do my daily workouts. I also wasn't expecting them there. When I was running , I thought I had them, but then I started to get worried because I'm running out of stamina, you know? So then he turned that corner and that's when it hit me. My abdomen started to burn because I don't drink enough water. You know, I've just been depressed lately to be honest, I'm Batman so what do you expect? Then I just stopped and I looked to my right and left and he was just gone and I just gave up because I was tired.
David: Right here, I have this picture of you and Robert Smith from The Cure, right alongside each other. My question is why did you put on so much eyeliner? Like do you want to be part of a goth rock band or something?
Batman: When I was young, I was extremely emo and I still am kind of emo. And I love The Cure. Right. And I was addicted to the cure. I used to listen to them. I used to cry when I'm in the hall when it's darker. And then I was putting on my mask as Vengeance and when I'm Batman, I'm just going to look stupid if I just have like just white eyes. I gotta make everything black. I'm going to do eye shade, whatever it's called on my eyes, because I want to be emo and also to hide my identity better and also because it looks cooler.
David: What would you say to all the students who disrespect their teachers, litter, or commit other unbearable crimes at CHS?
Batman: I say you suck. That's it.
David: What other cool experiences would you like to recount, roaming across the CHS hallways fighting crime?
Batman: Well, first of all, I had tons of fans. I'm saying like 100 people I've taken pictures with every single day for two days. I was literally the most famous person at CHS for about two days and I'll never forget that. Also, it was extremely painful. Every single period I walked into was the most awkward situation I've ever been in my entire life. I would walk in and I had to take off the mask so people knew who I was. I'm sorry, but I had to because the teachers didn't allow it. I took off my mask and everyone just stared at me for like three minutes straight. No words. Nothing. The teachers didn't even say anything. They didn't even care. Well, some teachers I remember did. I walked into fifth period for Mr. Tucker's biology class and nobody said a single thing. I just sat at my desk and I was sweating because I was so nervous and so awkward. I probably never want to relive that again. So that's one of the very terrible things that happened.
David: I noticed that across the CHS hallways, you kept tripping a lot. Was something wrong with your knees?
Batman: First of all, it was because it was funny and second of all, it was because of the mask. My mask didn't fit my face. I didn't have peripheral vision, so I just saw one way. When I was walking, I couldn't see below either. It was just a straight line like binoculars. So I actually would like, for real, trip on stuff. Some of those falls were actually real. I faked the trip in the intro, but after that, it wasn't meant to be that violent. I was going to get up, but I actually fell because I tripped on my cape and I can't see anything. Also, I've been running around a lot, so my legs hurt and I don't have as much strength
David: What inspired you to do all this?
Batman: This is where it gets deep right now. In Wolfcast, it's the same thing on and on. They're fun to watch, but they're not unique. Like I loved yours. Yours actually was stepping out of those boundaries that I call generic. I don't mean to be mean but it's the boring interviews and it's kind of like the same thing. It's like, you just have that same format of, "Hello, I'm blah, blah, blah and this is blah, blah, blah." Which I kind of did. It was just very generic. And I felt kind of cringed out because I just saw the same thing on and on. So I was like, "You know what? I'm going to do something different." Because I wasn't even planning on doing anything like that. So the first thing that came to mind was the new Batman movie coming out and there was this kid a while ago that dressed as Spider-Man when Spider-Man: No Way Home came out. I thought that was genius. And I was like, "I need to do that." But then we also had the Wolfcast feature, so I'm like, I'm going to dress as Batman for the movie and also do it from my Wolfcast feature. That's what inspired me to do Batman. Also, I kind of just want to stand out for a little bit because I just felt very closed. I felt like dressing up as Batman just opened me up to that.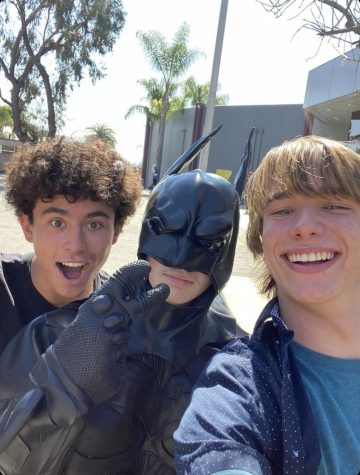 David: You got any cool new costumes you plan on bringing to CHS like what to do with the Batman?
Batman: So me and my friends used to dress as something stupid every Friday for like a month, but yet it started to become too painful, so we kind of stopped. Probably towards the end of the year, I'm going to start doing it again. And I don't know what we're going to do yet, but we have some good ideas.
David: Any final comments in general?
Batman: I'm actually the CEO of Mateo industries, which is the company that produces all these movies. So if you want to apply for Mateo industries, just contact me.
About the Contributors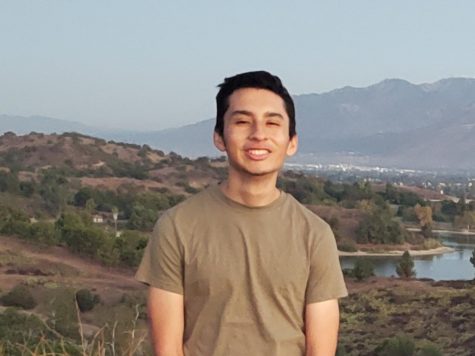 David Begazo, Opinions Co-Editor
David Begazo is a senior at CHS and an Opinions Co-Editor for the Wolfpacket. He loves to write articles and was lured by the Opinions section due to the...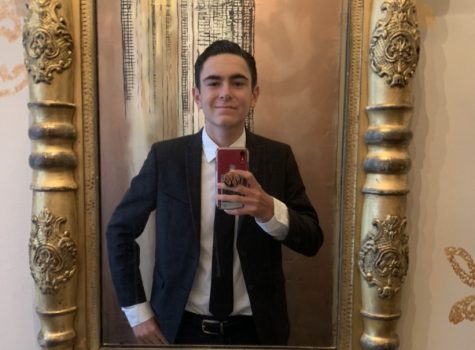 Carson Paul, Business Manager
Carson Hunter Paul, a sophomore at CHS is the and coolest reporter and Business manager of the Wolfpacket B). At school he loves hanging out with his friends...