A Review of ComedySportz at CHS
One hundred and eighty Barack Obamas walk into a bar. The bartender says, "Sorry! We're closed, you can't come in here," to which the Obamas reply, "Yes we can." Unfortunately, I cannot take credit for this joke. But let me explain how I heard it.
The last thing I expected to be doing on a Friday night was to be sitting in the CHS theater watching Andrew Eisenberg dance to "Eye of the Tiger" with the rest of the ComedySportz team, who all proudly stood behind him, glamoured in their colorful red and blue jerseys. But there I was: and what a night it turned out to be.
The most recent ComedySportz match took place in early March, which featured two teams divided into their team colors that consisted of either blue or red. Their speaking skills shined as the joking atmosphere contributed to an amazing Friday night.
ComedySportz promises "A night of fun for yourself, family and friends!" Now, it's no secret that ComedySportz has never been the most popular event at CHS. However, I chose to attend the most recent match, even though it is not on everybody's standard Friday night calendar. In general, the atmosphere was a very captivating one. The first game that was kicked off was called "Scantron." In this role playing game, senior Hyun Cho enacted an unpotty trained child, while senior August Waggener acted as the mom, and sophomore Mira Steinman acted as a maid scooping up Hyun's poop.
The game that followed was called "Yearbook," and all members of the team decided to spontaneously become a "Doc Oc fanclub."
To finish the night, the members of ComedySportz joined together to take suggestions from the audience. In one instance, a little boy in the front row watching screamed "pickles!" which changed the prompt to "One hundred eighty pickles walk into a bar, and the bartender replies 'Sorry, we're closed' to which the pickles replies…" which prompted Keaton Bunker to run up on stage with no hesitation and finish the joke.
…"To which the pickles reply, 'but the door was ajar!"
Jokes like these truly bring out the best in ComedySportz, which is an improvisational comedy organization that features a variety of games that focus on an impromptu set of speaking skills. Games vary and rely heavily upon humorous and quick thinking of the members.
Andrew Eisenberg attends CHS, and runs the ComedySportz program. He holds the position of Manager on the team, and this title comes with the big responsibility of running team practices, scheduling events, and trying to increase turnout for any ComedySportz related events. Eisenberg has been a member of ComedySportz since freshman year, and this year officially became ComedySportz manager. He has seen many funny jokes throughout doing ComedySportz, and believes that it is just a really special program.
"I definitely recommend going to a ComedySportz match," Eisenberg said. "It's not the same as a theater performance, because there's actual audience participation, and anybody that goes is able to be involved."
So dust off your calendars and make sure you have the next ComedySportz night off. The exhilaration of being able to be a part of games like these as an audience member, combined with the spontaneity and jokes given in an event like this makes the experience truly worth it.
About the Writer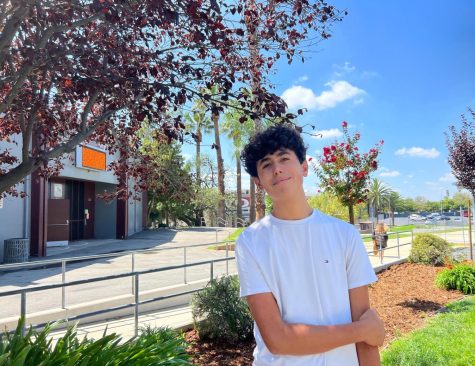 Lucas Grannis
Lucas Grannis is a sophomore at Claremont High School, who is currently serving his second year for the Wolfpacket as an editor for the Opinions section....