Hamster for sale. Slightly used but greatly loved
Tragically, the subject of this ad passed away prior to this issue's publication. But as a memorial to its long and happy life the Wolfpacket has decided to run the ad in its honor.
-Name: Phospholipid "Larry" Bilayer-Mason
-Weight: approximately 1.5 oz
-Length: approximately 2 in
-Age: Indeterminable (but no longer increasing)
-Color: vomit-stained beige carpet
-Eye color: piercing red like the depths of hell from which it emerged
-Personality: cold, aloof, and judgy about politics
-Favorite activities: escaping from its cage, pooping on its wheel, hiding from its loving owner
-Food preferences: luxury hamster feed, fresh fruit, occasional human flesh
-Habits: bad
-Ability to love: indeterminable
-Ability to hate: in therapy, working on it
-Fashion style: minimal, nude palette
-Inherited wealth: one hamster dollar, one wheel, one hammock
-Family background: abandoned as a pup
-Assumed family status: hamster peasantry (born to be snake feed)
-Relationship status: single but looking (hot hamsters only)
Political leanings: red like its eyes…Communist
Role models: Mickey Mouse, Pizza Rat, L. Trotsky, L. Platonov
-Hamster Quote: "Squeak squeak"
Owner Quote:
"I've learned a lot from my hamster. Mostly, owning a hamster isn't for me. I don't love it like I should, and it knows, because it can read my thoughts. I know the right home is out there. Just watch out for its eyes, because if you make eye contact for too long you'll feel an irresistible compulsion to organize your comrades to seize the means of production."
Please DM the Wolfpacket if interested in purchasing the beast. Prices can be discussed upon inquiry and range from $1 to $2. Make an offer!
-A correct guess about the current owner of the hamster will be accepted as an alternative form of payment.
#OrderRodentiaRules
About the Contributor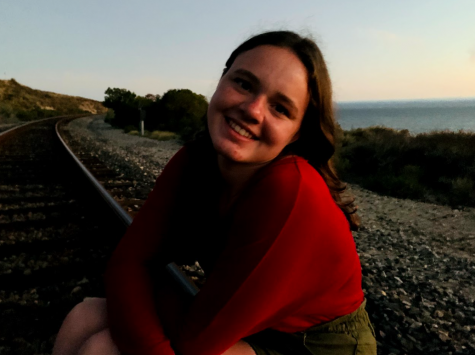 Meghan Mason, Assistant Editor-in-Chief
Meghan Mason is a senior at CHS, and this is her third year on the Wolfpacket staff. Mason is the Assistant Editor-in-Chief this year, and cannot believe...