Maarouf beats the odds at Harvard University
After a year of unprecedented competition in college admissions, It's no secret that being accepted into an Ivy League is no easy feat. Let alone admission into Harvard University, a school with a global reputation and a mere acceptance rate of 5.2% this year. YetMohammed Maaroufhas achieved just that. Following a busy four years at CHS and an impressive schedule packed with extracurriculars, leadership, and AP courses, Maarouf is headed off to Cambridge, Massachusetts next fall.
Despite having a wide array of colleges to choose from, Maarouf ultimately chose Harvard because he felt it was the best place to explore his interests and potentially discover new ones. He also knew that Harvard would provide him with an unmatched set of resources and opportunities.
"Primarily, I was drawn to its unique emphasis on allowing students to explore new areas of study," Maarouf said. "Harvard's resources allow me to further my interests beyond my passion for computer science and become acquainted with other fields that I might be interested in."
At Harvard, Maarouf plans to study computer science and/or economics, both of which he finds a deep interest in. While he is not entirely sure what career he wants to pursue specifically, he hopes to find a niche that connects his two interests while allowing him to make a positive global contribution.
"I do know that I am very interested in the niche that connects Computer Science and business related applications," Maarouf said. "I also have a large goal of creating and expanding modern systems to third-world countries where these technologies could save lives."
Aside from his academic interests, Maarouf is also passionate about public speaking. He joined the CHS Speech and Debate team his sophomore year and quickly became a highly involved member. He has qualified for the California State and National tournament multiple times and serves as Team Captain this year.
"My favorite activity during my time at CHS has to be our school's Speech and Debate team," Maarouf said. "The people I've met there are always amazing to be around, and I'm continuously learning new skills that shape my love for public speaking."
In addition to his activity on the Speech and Debate team at CHS, Maarouf also served as the president of Future Minority Leaders and the Muslim Student Union. Off-campus, He has been a member of a local mosque's weekly youth group and coached youth soccer.
Maarouf's advice for CHS freshmen is to find a balance between academic and social pursuits to maximize their time in high school.
"Do not do anything just for 'college applications,'" Maarouf said. "Also, make sure that you are challenging yourself academically, and at the same time, always become a part of new social experiences."
As he wraps up high school and prepares his life as a Harvard freshman next, fall Maarouf looks forward to exploring new academic interests and meet new people; two things he wished he could have done more had it not been for the COVID-19 pandemic. Reflecting on his time at CHS, he would like to give a shout out to the people and organizations that shaped his high school experience.
"I want to give a huge shoutout to Mr. Chamberlain, Mr. Pettibone, and my counselor Mrs. Ciszek," Maarouf said. "There is absolutely no way I could have accomplished the things I did without them. They, alongside the Speech and Debate team, have shaped where I want to take my future."
About the Writer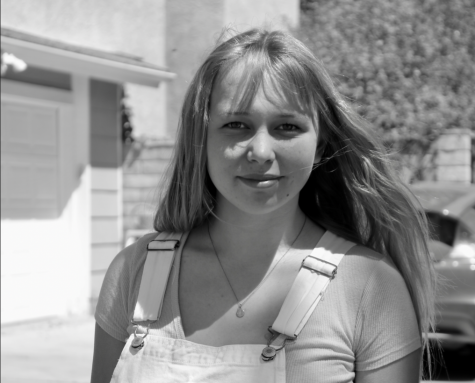 Claire Judson, Assistant Editor-in-Chief
Claire Judson has been a Wolfpacket staff member since her sophomore year, and has served as a reporter, Business Manager, Assistant News Editor, and now...