Lucas Massie skates north to play hockey for the Canadian Blackfalds Bulldogs
When one thinks of a hockey player, someone who plays an intense and injury-heavy sport, Lucas Massie might not come to mind. Nonetheless, laid-back and thoughtful, the senior plays hockey and excels at it. After high school, Massie will play junior hockey for the Blackfalds Bulldogs, a team in Alberta, Canada.
Massie began playing hockey at age six, and over the course of his career, he has played youth hockey for the LA Kings and the Anaheim Ducks. For those unfamiliar with the structure of hockey as a sport, players typically progress from youth hockey to junior hockey (which can last until players are 21 years old) to college hockey, and finally, to professional hockey, but many players also move from youth straight to college or from junior straight to professional. In Canada, Massie will stay with a host family and perhaps enroll in some college classes so that he does not become "brain dead," in his words, and after his time in Canada, Massie will be faced with many potential paths forward in the world of hockey and towards the goal of college.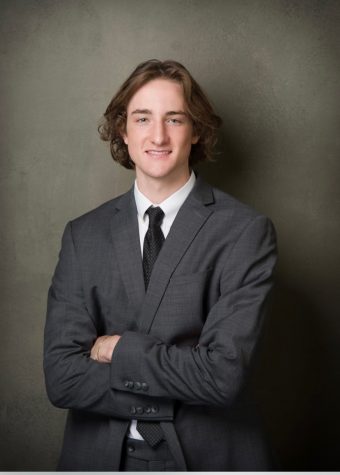 "I kind of like the idea of not going to college right away because it gives me more time to discover who I am as a person and mature and figure out what I'd really like to do as far as majoring in something goes," Massie said. "Being on my own for a little bit, playing the sport I love, playing at the next level — developing as a person and developing as a player — is what I'm looking forward to."
Massie's current academic interests include computer science, veterinary medicine, and biomedical sciences, and, as he recognizes and appreciates, he still has plenty of time to think about what he wants to study if he is offered a scholarship to college or decides to attend college and potentially play hockey without a scholarship. Because of Massie's apparent talent and hard-earned skill, a professional hockey career is in his cards.
"I don't want to look too far ahead because college is my goal right now, but yes, absolutely, if I had the opportunity to play professional hockey I would love that more than anything," Massie said.
Looking over his shoulder, Massie will miss the memories he has made during his time at CHS.
"You know the bench, by the library, up in the middle of central quad under the big tree?" Massie said. "The memory that I'll miss is hanging with all of my friends there; that's where we would eat lunch … Memories in classes and stuff are probably what I'm going to miss the most. The whole act of getting out of class, and meeting with friends, and going and hanging out after school. That was always my favorite part — just mingling with people, nothing too specific."
Massie also emphasized that he has enjoyed meeting friends to watch the CHS basketball team play games in the gym.
With manifold paths to success ahead of him, Massie's deliberate and level head will ensure that he will steer himself in the right direction, toward the most valuable experiences and the happiest places. He will clearly remain humble and will remain grateful to those who matter to him:
"I'll give a shoutout to my parents obviously, Amy and Chris, and I'll give a shoutout to Coach Troy who is my goalie coach," Massie said.