CHS Theatre director Krista Carson Elhai retires after 27 years
CHS Theatre director Krista Carson Elhai is retiring after holding the position for 27 years. As the school year comes to a close, she has had plenty of time to reflect on her long career and the new chapter that lies ahead of her.
Elhai first got into theater in her freshman year of high school at CHS, but it originally was not her main interest.
"I did ballet for 10 years. I did a little theater at first, but, truthfully I was, I was filling out my summer school application going into my freshman year of high school and my parents said, 'Oh, look, musical theater workshop. This sounds like a good idea for you. Why don't you do that?'" Elhai said. "So I was like, 'Okay.' Cause they were like, 'You could dance in the chorus.' So I said, we had a summer, we had a summer musical theater class every year back then and I signed up and I did every show from then until the time I graduated high school."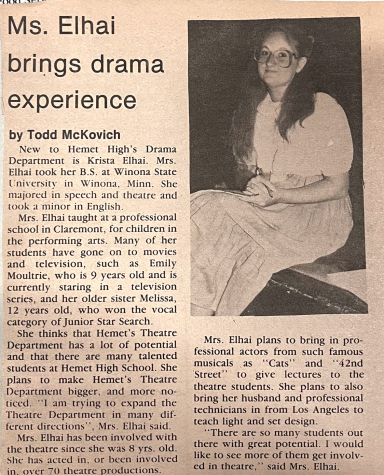 Despite being in theater for the entirety of her time in high school, Elhai wanted to become an attorney and was in pre-law in her freshman year of college. But her love and passion for theater was stronger and she decided to switch out of pre-law to become a theater major. Elhai went to college for four years in Minnesota, and returned to California to work at a professional performing arts center for a year. She then taught at Hemet High School for a decade until she applied to become the CHS Theatre director after her former director, who was there when Elhai was a student, retired. She was hired for the job and officially started in September 1993.
Elhai was attracted to the job at CHS for multiple reasons, the first being that she wanted to raise her kids in Claremont, and loved the concept of a one-high-school town. She was also impressed by the talent of theater students and their commitment to theater, something which she acknowledges has remained among her students throughout her years.
The CHS Theatre program is nationally acclaimed and has thrived during Elhai's tenure, with many former students finding success. Elhai recognizes that the success of the theater department has been in large part to an atmosphere of support from the community and a perfect combination of dedication from both adults and theater students
"All the adults involved in the program set a really high bar and we expose our kids to a lot of different theater and we expose our kids to a lot of guests, artists, and a lot of different experiences and the students rise to that occasion," Elhai said. "Students are the secret sauce. If the students weren't willing to do it, it doesn't matter what adults we had or what kind of community we had. So kids just really, they're willing to try anything and do anything."
Elhai has made many great memories throughout her time as theater director, and although she admits they are not all glamorous, they still hold a lot of value for her.
"During a show, just wandering around backstage and having these small conversations with students," Elhai said. "Sometimes that's when I get to know somebody better or I get to find out what their favorite part of the show is. So that's always one of my favorite things. And then watching the show, like from the back of the theater, wherever the theater is: Claremont High School, Bridges Auditorium, state conferences, national conferences. Just kind of standing back and watching the students do everything themselves is also something."
She loves the productions CHS has done in the past equally, but the first production of 42nd Street was especially memorable, because it was the biggest show she ever had to tackle. Students had to learn how to tap dance and it was a challenging tech show, adding to the difficulty of producing it.
A rush of thoughts have crossed Elhai's mind as she packs her belongings and prepares to leave at the end of the school years, especially about her older students.
"I think what I think I've been really surprised by [is] pictures I find or newspaper articles I've found and just immediately, I think of those students," Elhai said. "A lot of them I'm still in contact with, so maybe this person was a freshman and they played Christopher Robin and I put them in a little pair of blue shorts and they look like they were 12. Now they're a nationally renowned opera singer. You know, which is just always really funny. Sometimes they grew up to be something completely unrelated to theater. One of my students just left the country yesterday. She is a mom and has four kids. She's a missionary overseas and watching her juggle her life, which has nothing to do with theater: it's just really fun that through theater, that brought her into my life.'"
Despite retiring from CHS, Elhai will continue to work in the theater sphere. She was recently selected as president-elect of the Educational Theatre Association and is still on two California theater boards. She will also remain as a theater consultant for the College Board, and she will continue making trips to New York to do her work. She will have a lot more time to visit her daughter in Florida, who is a costumer at Disney World, and see the shows that her twins work on.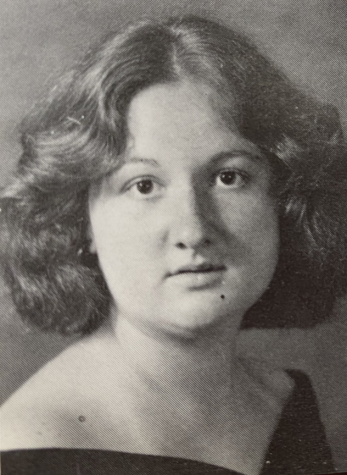 Elhai will remain in the theater sphere because she loves it and believes that it is important in today's culture. She says that good theater opens new worlds to viewers and shows a human element that is crucial to an inclusive and open-minded society.
Elhai is not the same person and does not have all of the same beliefs that she had when she first came into the job nearly three decades ago, but her optimism about high school students has remained steadfast.
"I think I went into this 37 years ago, believing that high school students can do anything. And I still believe that high school students are amazing and smart and the world is in great hands. I just wish that all of the adults in the world could see high school students like their teachers see them because you guys are just absolutely spectacular and amazing. So yay for teenagers," Elhai said.