New sports at CHS: why add them, and what would it take?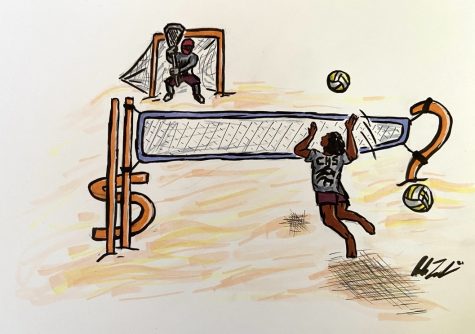 CHS offers 23 different sports programs, all of which cater to the varying interests of student athletes. Yet even with an extensive catalog of sporting options, some may feel limited. Field hockey, lacrosse, gymnastics, and badminton are popular CIF competitive sports that are unfortunately not offered at CHS. On February 5 of this year, girls' beach volleyball was voted in as an official CIF-approved sport. High school athletics can begin implementing the spring-season sport as soon as this next school year. So, what determines if CHS will choose to offer another sport, such as a beach volleyball program? It all boils down to student interest.
Offering more sports on campus is certainly a possibility in the future. To introduce a new program, such as lacrosse or beach volleyball, there would first have to be an overwhelming interest in it among athletes.
"To get a program going, you need the interest of the athletes, and there has to be enough people to compete," CHS Athletic Director Mike Collins said. "It's one thing to have a few people interested, and another to have a full slate program."
If enough students have expressed interest in a specific activity, an application can be sent to the district, which has the power to determine whether or not it will become an official school sport. When making a decision, the district has to weigh a number of important factors, one of the most important of which is budgeting. Considering how many extracurricular activities CUSD already offers, adding more can quickly become costly. This is especially true for sports, where money has to be continually allocated for new equipment, coaching, transportation, and additional maintenance fees.
Although adding new sports would be costly, expanding the CHS athletic department's programs could be a lucrative decision for students and their families in the Claremont athletic community. According to the National Collegiate Athletic Association, over 150,000 student-athletes obtain athletic scholarships in Division Ⅰ and Division Ⅱ athletics every year. By expanding the sports programs offered, students would have a greater chance of receiving athletic scholarships, which is essential for those who would otherwise struggle to pay the high costs of college tuition. Additionally, more students may feel inclined to join a team if one that better fits their interests is offered. Considering a link has been found between student-athletes and improvements in academic performance, fitness, and mental health, it would be beneficial to appeal to a wider array of potential student-athletes.
With the recent announcement of girls beach volleyball becoming a CIF sport, conversations surrounding its potential future at CHS have begun. Some athletes have already expressed enthusiasm in bringing the sport to campus. Sophomore girls volleyball player, Siena Dill-Cruz, is excited at the prospect of a school beach volleyball team.
"Beach volleyball would be an especially great sports addition since it has different elements that make the game fun to play," Dill-Cruz said. "It would also just be great to have something else to stay involved in during my usual off season time."
Athletic Director Mike Collins recognizes the potential eagerness among students surrounding beach volleyball. However, the sport would bring its own unique challenges in terms of a location for practicing.
"We are excited about beach volleyball. The volleyball coaches can start to promote the sport, and see if there is interest in it, and I have a feeling some people will," Collins said. "But schools need a beach court or an off-campus site to practice on."
Considering the campus lacks a sand volleyball court, a secondary location would be needed for the sport. However, the boys and girls golf teams also practice off-campus, so this factor should not rule out of the possibility of implementing the program.
Though this school year has been challenging for athletics, ideally a sense of normalcy will soon return. Once student-athletes become reacclimated to the usual sports schedule, some may want to pursue beach volleyball, or another currently unoffered program. With enough interest, it is possible that the already vast CHS athletics program will continue to expand in the years to come.