Follow up: the end of Harry Styles' Fine Line era was "Golden"
"You're so golden, I'm out of my head, and I know that you're scared because hearts get broken." sensational music icon Harry Styles sings in his popular and metaphorical new single, "Golden." "Golden"—a song I originally believed was about heartbreak disguised under a classic "Pacific Coast Highway" tune, was instead, a song about self-discovery and Styles allowing himself to be comfortable in his own skin. Now, the mellifluous song, in all of its golden glory, has officially closed the "Fine Line" era, and Styles was right—loving it was indeed the antidote.
The day Fine Line was released, I had written an article interpreting each of the songs and meaning of the lyrics. Styles was very vague about each song and left the entire album up for interpretation to the fans. Looking back, I didn't realize how possibly wrong I could be about the lyrics, nor did I realize how many of these incorrectly interpreted lyrics would impact me and millions of other fans. Instead of most of the tracks being love-oriented, such as "Golden" focusing on the insecurities of a new relationship, or "She" being about an ideal lover; these songs represent what type of person Styles truly is instead of what the media portrays him to be. The album gave him the opportunity to move past the "post One Direction member" and "boyband soloist" stereotypes and allowed his fans to validate their feelings through Styles' meaningful lyrics.
"I feel like just knowing that this album is the most open he has been, and the most vulnerable, and how he was able to find himself really just also helped me find myself as a person," CHS junior and avid Harry Styles enthusiast, Sydnee Gastelum said. "I wasn't very confident before the 'Fine Line' era, but just listening to the album and learning the true meaning of the songs made me actually find myself as a person more and really discover myself."
The "Fine Line" era seemed to not only help validate the fans and their confidence, but Styles as well. An important interview I often look back on and quote is the Zane Lowe interview from November 2019, just before "Fine Line" had released. This interview was around one of the first real interviews where Styles had opened up about his feelings from behind the album and allowed himself to become vulnerable, which has become inspirational to fans. In this interview, Styles explains how he played his first album, "Harry Styles," "safe," and looking back, he could almost hear the places where he chose to play it safe instead of being more vulnerable. However, in "Fine Line," vulnerability was an important aspect in not only writing the album, but in portraying himself as well. While talking to Lowe, Styles explained how he wanted his solo career to be more freeing, and how he had wanted to redefine success for himself. He specified that he had gotten used to being in One Direction, where it seemed as if every album and every tour progressively had gotten bigger and bigger; now, as a solo artist, he needed to redefine what success was for himself. Styles describes a quote that initially helped him:
"One of my friends had kinda said,
'If you're happy doing what you're doing, then nobody can tell you you're not successful.'"
This quote was one of many in the "Fine Line" era to go viral on social media platforms, and is an extremely popularized quote to fans. Perhaps it was just Styles saying the words, or it was the meaning behind the quote that reached out to fans, but the 15 words that rolled off the tip of Styles' tongue helped millions with their lives.
"I feel like the majority of my life I would do something or try something new that I enjoy, someone would either make fun of me or just put me down for it, or I would just be my toughest critic in how I do something and put myself down for not doing something perfect," Gastelum said. "It really just opened my mind and made me think that if I enjoy something, I don't need to be perfect, but just the fact that I'm happy about it is what makes it perfect and I don't need anyone to put me down for what I love to do. Just knowing that he also deals with the same things I do and isn't a 'perfect person,' and that you were able to see his thought process on life and everything that he's been through was really inspiring. It's good to know that I'm not the only one and that I'm not alone."
Harry Styles is a name everyone will most likely recognize, whether it is the "past member of One Direction," the English fashion icon that tells everyone to treat people with kindness, or even "that one guy who sang with Stevie Nicks!" However, Styles has come a long way from the sixteen-year-old boy from Holmes Chapel, and now, as a twenty-six-year-old platinum star, it is safe to say that he has impacted millions of people around the world. His "Fine Line" era, with all of its deep metaphorical lyrics, to Styles' inside jokes during interviews, has helped millions upon millions of fans around the world, and the incredible artist has officially closed the era with a happy tune, "Golden." To quote Styles, "find a place to feel good, and treat people with kindness."
About the Contributor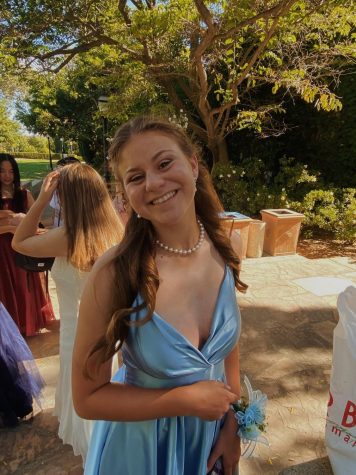 Casey Shoultz, Head Sports Editor
If you have explored Instagram in the vast few months, there is only one person that has continuously posted updates from their favorite musical artists...