Claremont United Methodist Church sends powerful message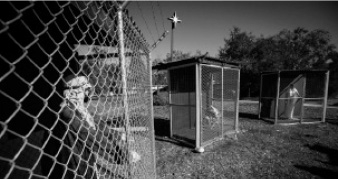 This December, thousands of people drove past the Claremont United Methodist Church on Foothill Boulevard to see what appeared at first glance to be a traditional nativity scene. However, on closer examination, viewers saw that Mary, Joseph, and baby Jesus were imprisoned in separate chain-link cages. This was a reference to the current family separation policy in which refugee families at the U.S.-Mexico border are being separated and imprisoned. If viewers pulled over to look more closely they would find a question on a plaque in front of the cages: "What if this family showed up at our border today?" They may also have seen the blue ribbons that hundreds of visitors tied on wires between the cages, symbolically joining the holy family together as well as showing support for the thousands of families currently separated at the U.S. border.
No matter what one's political views are, it can be agreed upon that this nativity scene was an unusual and powerful statement. Indeed, some of the nation's most widely read news outlets covered this unique interpretation of the Christmas story.
According to the Los Angeles Times, which ran a story about the nativity scene, a photo of the cages was first posted by Reverend Karen Clark Ristine, and then was picked up by numerous television stations and newspapers. Katrina Mason, a longtime Claremont resident, explained that the media attention is what sparked her interest.
"I think I saw it in the LA Times before I saw it anywhere else," Mason said. "When I saw it in person I thought it was very powerful, and really shows the connection between the Christmas story and our lives today and what's happening on the border."
While the nativity scene sparked discussion across the county, it was a unique experience for CHS students, who were able to drive by it every day. Sophomore Selah Eum remembers the first time she saw the scene on her way to school.
"I remember thinking it was really unique and thought-provoking," Eum said. "I think it's something that many people have opinions about and it will spark many interesting conversations."
It turns out that there was more to the church's presentation than just the cages. People who took the time to read the plaque in front of the cages learned that inside the church there is another nativity scene showing the holy family reunited. While the outside scene shows the harsh reality of separation facing so many families, inside there is a message of hope and a promise that injustice can be overcome.