Anyone, including senior Natty Waggener, can run a marathon — that is, if they are crazy enough
As children and teens are constantly reminded to go outside, join sports teams, and get off of their electronic devices, it is a rare occurrence that they are told to stop exercising or to take a rest day from sports. From this environment of parental and societal pressure to be fit come kids that overtrain and do not know when to put down their ball or unlace their shoes. One area of concern for athletes who overtrain is running. There is no consensus in medical opinion on young runners who compete in marathons or train at a seemingly ludicrous high mileage. However, there are studies on high school distance running that shed light on the subject.
One such study published by the University of Minnesota School of Medicine, titled "Can Children and Adolescents Run Marathons," used data from the Twin Cities Marathon (TCM) and the Los Angeles (LA) Marathon. The study noted that there were no severe injuries after the marathon, only a small portion of finishers were evaluated at the medical tent, and "both the TCM and LA data suggest that junior marathon participation is a safe activity for the short term." However, many sources cite long-term injury as the reason why minors should not run marathons or overtrain. Teenagers are especially susceptible to overuse injury because of their high bone and muscle growth rate. These injuries may put them out of the activity they love in the short term, causing no exercise for a period of time, which is detrimental to the athlete's physical and mental health.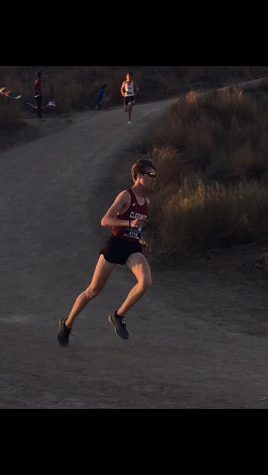 Longtime physical therapist, athletic trainer, strength and conditioning specialist, and co-owner of Podium Sports Performance in Claremont Sean Gately lends his extensive knowledge on the subject of running (as a USATF coach) to the subject at hand.
"I don't know if you could say there's a youngest age, because I could see somebody that has a kid that's been running around with them since they were four or five trying to run a marathon at eight or nine, but is that too young? It depends," Gately said. "If they're conditioned for it, and they're strong enough for it, is there really a 'too young?' Just like, what's 'too old?' I've seen eighty-year-olds run marathons before."
Gately says that one of the most important things to be aware of while running is the training that is put in. He recommends to stop training for a marathon immediately if any joint issues set in. In terms of mileage, Gately advises 20-25 miles maximum for a middle schooler, and up to 55-60 for a high schooler.
After getting a strong training base in the formative years, one does not need high mileage weeks later on. Gately cites Galen Rupp, the fastest American marathoner at the moment, who does not run more than 10-12 miles for his longest run of the week. He is able to do this because of his twelve-year training base, however. Even for those without huge training bases like Rupp, Gately stresses the destructive nature of extremely high mileage. Although 100-mile weeks may have been considered healthy some time ago, they will make a runner "banged up and injured by the end," according to Gately.
CHS senior Nathaniel Waggener was conscious of taking a healthy approach to running the marathon at the San Diego 50-Mile and Trail Marathon Race on January 12 this year. Waggener was 17 at the time, and he ran the marathon in 5:14.
"I took it really easy and went really slow just to make sure I would be fit for track," Waggener said. "I will run another marathon, but probably not for a couple of years. Maybe not until after college."
Waggener was vigilant about avoiding injury while running the marathon, and it was psychologically healthy for him in that he signed up without outside pressure. Because of Waggener's example and the opinions of experts, it can be seen that running a marathon is an attainable feat for minors. However, those training for a marathon must understand the risk and proceed with caution. Obviously, one would need a minimum amount of training to finish 26.2 miles, but disregarding that, anyone could run a marathon if they put their mind to it.