Brittany Brown, CHS Alumna, Wins Silver at IAAF World Track Championships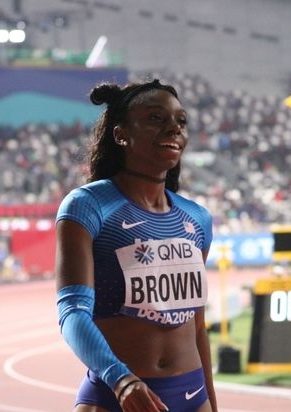 Making it big in an athletic profession has been many high school athletes' dream; one Claremont native has done just that. Brittany Brown, a CHS graduate, recently won a silver medal at the International Association of Athletics Federations' (IAAF's) World Championships on Oct. 10. Brown started running early on at Vista Del Valle Elementary School in Claremont. Her passion for running grew as she moved from elementary school to junior high. Although she did not run much during her time at El Roble, she still enjoyed it when she ran for PE. It was not until high school that she decided to join the track team. She ran track throughout high school, and even made it to the state championship her senior year. After high school she only wanted to focus on her education and run on the side, but that changed when Brown attended the University of Iowa on a full-ride athletic scholarship, where she was the NCAA national champion for all five of her track seasons there. She graduated in 2017. This past year has been a seemingly endless cycle of hard work for her, given that she has had race after race all over the world in places such as New York, Jamaica, Poland, and Russia, which have led up to her triumph in Doha, Qatar in the Women's 200 m Finals Race at the 2019 IAAF World Championships.
Brown's passion for running started at CHS on the track and field team, she said over the phone during an interview with the Wolfpacket. She loved running and everything that came along with it, but she never really dreamed of being a professional athlete. She thought running was enjoyable during high school, and not something that she thought she would do as a career or in college, but throughout her college years, her love for running grew and she knew that it was something that she wanted to pursue.
"If you had told me my freshman year of college that I would a professional runner, there is no way I would have believed that," Brown said.
Brown believes that in order to do well in races, one has to truly enjoy and understand running and dedicate oneself to the sport. Brown obviously has had the passion it takes to become a professional from the moment her feet first pounded the pavement.
"I love the feeling of completing a hard workout even though your body feels like it's going to let go; I love the cool feeling you get after you accomplish that," Brown said. "I just feel so blessed to be able to use my body to make a living for myself, and I have a gift that I am going to use to the best of my abilities, and not waste it because it's mine."
The challenges that Brown faced near the beginning of her career were more mental than physical. Physically, Brown knew that she would be okay and that she could do what needed to be done. However, she was lacking some self-confidence that made her feel that she did not belong and that she was not equipped to succeed. She has overcome these initial mental challenges by reminding herself that she is just as good as any other runner near her and that she did belong because she is a hard worker. When Brown was overcoming her doubts, her family and friends were there by her side.
Brown has had much support and encouragement from her family, from her siblings, from her coaches, and from her friends, who are all there to cheer her on whenever they are able to. She would like to thank her family for being very supportive of her as well. They are constantly giving her support and building up her confidence as much as possible. She appreciates that they do what they can to make her happy by listening to her vent and giving her advice to mentally prepare her for races. Although it can be difficult to travel to Brown's meets, her family loves watching her run when they can. Her brother, Brandon Brown, is especially proud of all of her success.
"Watching my sister run is honestly the best thing in the world to see," Brown said. "It is such a blessing that she is capable to use her God-given talent as a professional runner and I hope that she keeps going further in her career."
Brandon Brown feels very honored to watch his sister go this far in life. Brown believes that she will keep moving forward in her career and hopes to see his sister qualify for the 2020 Olympics. Brittany Brown's career has been breakout season after breakout season, from CHS to the world stage at Doha, and one can only imagine what another season can bring for her. With enough training and support, Brown will achieve another astounding season that the world cannot wait to watch.