Billie Eilish and How the Power of Music Can Transform People
If students have heard the songs "bellyache" or "idontwanttobeyouanymore" then they are probably familiar with musician Billie Eilish. Known as "music's terrifying 'It' Girl" and "the powerful and inspiring phenomenon," Eilish has been breaking boundaries with her alternative rock/electronic pop music from an early age.
Eilish was only 15 years old when she and her brother, Fineas O'Connell, recorded her debut single, "ocean eyes." In 2017, the two released the song under Eilish's name. In that same year, her debut EP, which was a smaller album that consisted of 9 songs, "dont smile at me," went viral, making Eilish more popular than ever. However, it hasn't always been this easy for Eilish to record and write music.
After a compilation of Eilish's tics was released on Youtube, the young singer revealed that she does have Tourette's syndrome. On her Instagram story, she revealed that she never mentioned her Tourette's syndrome because nobody would think it was real. Additionally, she never wanted people to think of Tourette's every time they thought of her. The 17-year-old went on to mention that Tourette's has been a constant part of her life since she was a child. Her tics have gotten in the way of doing everyday things, making it distracting. To help, she wrote and collaborated on music with her brother, Finneas. Music helped relieve her tics caused by Tourette's.
"I've taught myself ways of suppressing my tics and certain techniques to help reduce them when I don't want to be distracting in certain situations," Eilish said on her Instagram story.
Even when not having these symptoms, Eilish is a prime example of how music is beneficial. Studies have shown that going to concerts has helped health and happiness. According to O2 and Goldsmith's University, a study has shown that going to concerts actually helps extend life expectancy. The university concluded that attending a concert for even a small duration of time can increase feelings of well-being by about 21%. Their study showed that those who went to a concert every two weeks were more likely to experience "happiness, contentment, productivity, and self-esteem at the highest level."
Studies have also shown that listening to music helps to boost your health. West Virginia University's School of Public Health's studies showed that when a person listened to music, the music seemed to "selectively activate" neurochemical systems associated with positive mood, causing them to be happy. The study also proved that listening to music helped to deter or lessen symptoms of depression because music's ability to activate the brain's neurosystems.
Though the findings and research about music's relation to health and mood are certainly useful, it doesn't take a scientist to know that music offers people many health and mental benefits. Billie Eilish is the perfect example of this. Though only 17, Eilish is making waves and paving new roads. She is changing this generation with her music and talent. Music is a language; so teens, go out there, listen to some new artists, and attend some concerts!
About the Writer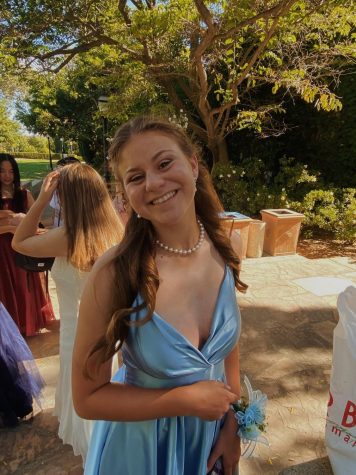 Casey Shoultz, Head Sports Editor
If you have explored Instagram in the vast few months, there is only one person that has continuously posted updates from their favorite musical artists...