Nike Hijab: For Underrepresented Athletes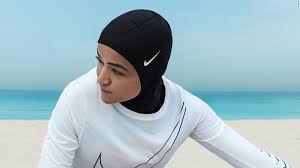 Hang on for a minute...we're trying to find some more stories you might like.
Nike recently released a new product to add amongst their extensive selection of sportswear–the Nike Pro Hijab. The brand is sold on a global market and has set sights for a greater audience of female Muslim athletes. It is releasing in the spring of 2018. This new product is a step forward in the acceptance and the elimination of racial stereotypes surrounding hijabis. Although a significant product, there has been mixed opinions on this release.
Many have expressed discontent with the Nike Hijab. Some have boldly proclaimed they will boycott Nike because they do not support "the oppression of women."  These opponents have claimed that Nike is allegedly normalizing oppression of women through the Pro Hijab. Some believe this is "Islamic propaganda" and that Nike is pushing a "terrorist" agenda. These generalizations and misconceptions stem from a lack of understanding of the religion and what exactly the hijab is.
Previously, Muslim women may have been discouraged to participate in sports because the typical hijab is not suitable for playing sports. Nike is not the inventor of the athletic hijab, but, it is the largest corporation to produce it so far. Many feel this is a step for validation for Muslim women as it allows for greater inclusion.
"When I first heard the news, I honestly could not believe it, I had to refresh my page again to make sure it was real," Muslim athlete and junior Saria Abusalih said. "I am ecstatic to see their collections to come. I have always struggled with athletic wear; I was the girl in sweats running a seven minute mile in ninety degree weather, so knowing this collection exists in Nike, is a relief and I can finally perform to my best ability"
Others have seen the release of the Hijab as a marketing ploy for the large corporation. Some expressed that the company is attempting to capitalize on this demographic and political atmosphere. The company may have recognized their lack of internationally reflective products, like a hijab, and decided it needed to broaden its selection. According to Thomson Reuters, Nike accounts for 11 percent of global apparel sales. With this data, some may conclude that the company is looking to expand horizons and capitalize on the Middle East.
"The Nike Pro Hijab may have been more than a year in the making, but its impetus can be traced much further back, to an ongoing cultural shift that has seen more women than ever embracing sport," Nike said in a statement.
The product itself is made out of lightweight polyester material and comes in three shades: black, gray, and obsidian. It features tiny holes for optimized breathing. The hijab will also come in sizes XS/S to M/L with elastic binding that allows for the best personalized fit for each woman. The signature Nike swoop is placed above the left ear. The company worked with professional hijabi athletes in order to manufacture the best hijab.
"The fact Nike was courageous enough to release a hijabi inclusive line is impressive. No doubt the ad has shared its fair amount of controversy but what hasn't," Muslim student and junior Maya Ibelaidene said. " It is important for companies like these to incorporate Muslim athletes because Muslim athletes are without a doubt underrated and underappreciated. The more sporting companies are willing to include Muslim athletes, the more the athletic community and society in general, will be willing to include Muslims into other activities without judgement"
Essentially, whether the attention is good or bad, the discussion of the athletic Hijab is bringing to light controversy of Muslim relations in the US and other countries. Islamophobia is an issue that this country is dealing with at the moment, however,products like the Nike branded Hijab are showing the public that Muslim Americans are just like everyone else. This Nike Pro Hijab is another step forward changes in religious relations in the US.