Rick Dutton Retires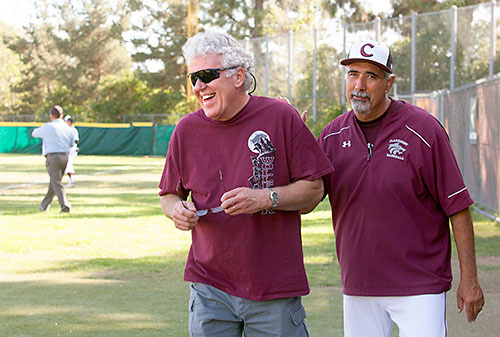 Hang on for a minute...we're trying to find some more stories you might like.
At the end of the 2017 school year, CHS Athletic Director and PE teacher Rick Dutton will be retiring. After working at CHS for 39 years, many are sad to see him go. Dutton has really enjoyed working here at CHS. He has never felt anything negative towards the program, always having something positive to say.
"The first year or two I was here, I knew it was a very special place," Dutton said. "[I knew] that it would be a great place to spend my entire career, and I was right about all that."
Working at CHS since 1978, Dutton has seen many improvements made in the athletic department, as well as accomplishing some himself. For example, Dutton feels that CHS has some of the best head coaches in California, that Dutton has gone out of his way to find. Other improvements that Dutton has helped the program are things such as helping the facilities with pool, which was down for several months. All of his help has been greatly appreciated at CHS.
Coming out of Glendora High School and going into Azusa Pacific University, Dutton had no idea what to do with his life. All he knew is that he wanted to coach football.  In 1984, Dutton became a full-time health and physical education teacher. During this time he married his wife Mary, in 1985.The couple then had a child that they raised in Chino Hills, Mackenzie, who played softball at the University of La Verne. Mr. and Ms. Dutton now live in Upland.
"My goal was to become a college football coach," Dutton said. "I was concerned that if I became the athletic director, I would eventually have to give up football."
Dutton went ahead and got his teaching credential at APU, and went on to working at CHS as the athletic director. In 1995, the principal at CHS asked Dutton to become the athletic director, and he denied it about five times. He took the job thinking he would be excellent for the position, and he was right. As the AD, his job was very challenging, but he grew to really love the challenge. After three years of coaching and being the AD, dutton decided to walk away from football. Dutton began to really miss coaching the sport. Gladly, thirty-nine years later, he is still happy with his decision. After retirement, Dutton plans on spending his time helping the new athletic director with the intricacies of the position.
"I will show the new AD where everything is, and how everything works. And assist in every way possible until they tell me to go away," Dutton said.
He also plans on spending time with his wife and his dog traveling across America while he is not watching the CHS sports teams compete. Although Dutton will be greatly missed, and many students and staff are sad to see him go, everyone is glad to see how far he has gotten this program, and everything he has done for CHS.