Aysha Gsibat stays in Claremont attending Pomona College
Bubbly and outgoing, Aysha Gsibat still finds time to study hard and shine in the classroom while participating in a host of different clubs and extracurriculars. Her recent commitment to Pomona College in Claremont attests to her ability to juggle countless commitments while still managing to smile and laugh her way through every day, making small-talk to passerby as she moves from class to class.
One could publish a book about all of Gsibat's extracurriculars: she was vice president of the National Honors Society, president of Muslim Student Alliance, vice president of Refugee Assistance Program, publicist of Black Student Alliance, a member of Interact Club and of Young Democrats Club, ASB class representative for one year and ASB executive treasurer for another, a member of the track team for three years and captain for one, a member of cross-country for one year, and not only a volunteer at Pomona Valley Hospital, but the shift leader, completing over 300 hours of service. Just reading that in one's head is exhausting — living it for four years and managing to become one of the most upbeat, blithe students around is a different matter entirely.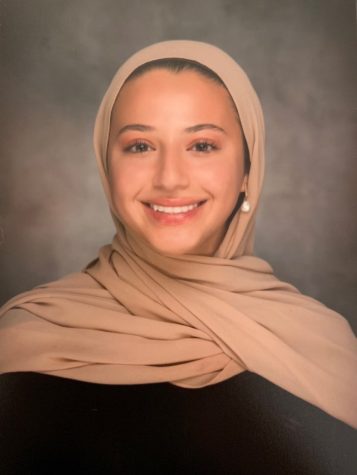 Gsibat has as many interests as she does extracurriculars, as she is undecided about what she will major in at Pomona. And although high schoolers are known to try to get as far away as possible from their hometowns, Gsibat did just the opposite. Gsibat explained that because Pomona is prestigious, because she does not live in Claremont proper, and because she has had the opportunity to watch her four older siblings go far away to college, she chose to stay close to home and attend Pomona.
"So many things are changing while transitioning into college and having controlled variables prevents feeling overwhelmed," Gsibat said. "Not to mention, I never have to pay to do my laundry, book plane tickets, or suffer from being homesick."
Over the course of her time at CHS, Gsibat has had many great friends and teachers. In particular, she would like to acknowledge: Isatu, "the funniest person on campus," as Gsibat described her; Tammi Ho, who is "also pretty epic, and comforted [Gsibat] through all of her physics breakdowns;" Mr. Pettibone, "the absolute physics beast who pushed [Gsibat] beyond [her] limits;" Mr. DiGiulio, "who made freshman year legendary;" Mrs. Pierce, Mrs. Nicoll, and Mrs. Mitchell, "who each granted [Gsibat] the tools for success." The fact that she insisted on the inclusion of descriptions for each friend and teacher proves her personability even further. As such a social and upbeat student, Gsibat has grown through her interactions with peers.
"I have learned my most valuable life lessons in those halls, and not necessarily from my teachers, but from my peers," Gsibat said. "I appreciate the friends I have and the friends I lost touch with. I learned a lot from each of you and I'm grateful for the memories we made, although it was cut short."
Gsibat will certainly find friends, success, and happiness at Pomona, no matter the path she ultimately takes. With so many clubs and volunteer organizations losing a valuable leader in Gsibat, and with many students and faculty getting one less "hello" during their passing periods, Gsibat will be sorely missed by the Claremont High School community… but her leadership and friendliness may still hold in the larger community of the city of Claremont.