Dirk Morken staying closer to home attending Pitzer College
For many CHS students, the Claremont Colleges are places they grew up exploring. From prom photos, to walks around town, to plays at Bridges Auditorium — many at CHS already know the Claremont Colleges like the back of their hand. On the flip side, for students across the globe, the Claremont Colleges are prestigious, rigorous, well-known liberal arts colleges that remain a dream for many. However, for CHS senior Dirk Morken who will be attending Pitzer in the upcoming fall semester, going to a Claremont College will become reality. Through his hard work, activism, and lively spirit, Morken has certainly left a name for himself at CHS. Morken plans on continuing to further his education and exploration of Social Sciences at Pitzer in the fall.
To many Claremont students, including Morken himself, the Claremont Colleges appear rather distasteful, as many teenagers' goal when picking a college is to get as far away from home as possible — or, at least not a two-minute drive from home. However, when Morken found out he got into Pitzer, and his financial aid offer arrived, this mindset went out the window.
"I wanted to leave Claremont so badly," Morken said. "But then I got into the other schools that I thought I wanted to go to more and when it came down to it, it was $3,000 tuition for Pitzer or $25,000 elsewhere so I decided to save the 20 grand staying here. The financial aid was really what drew me to Pitzer, but it was definitely the best school I got into by far which solidified my decision."
Morken did get into many other universities he applied to. However, when it came down to the wire, Pitzer's academics and liberal-arts feel simply outweighed the big universities he was considering. Nonetheless, not only is Pitzer academically the best fit for Morken, but its values also seem to align perfectly with Morken's stamp on CHS. Morken, a name now known by many in the Claremont Community, started a petition in April of this year to reform the CHS' grading system during this unprecedented time, demanding social justice for those who may not be able to complete the previously mandated work CUSD required. Gaining over 2,600 signatures and widespread community support, ultimately persuading CUSD to offer a pass/fail system, it is clear that Morken is not shy when it comes to social injustice. Pitzer, known across the country for its social activism and outspoken student voices, then seemed like just the right fit for Morken.
At Pitzer, Morken plans on studying something in the field of social sciences. Not yet sure about his specific major, Morken plans to keep his options open going into the fall semester.
"I've always just really enjoyed social sciences," Morken said. "My favorite classes over my years at CHS were always history, government, or economic classes. Plus, I simply like talking to people, so I think that some branch of social sciences is what I want to go into."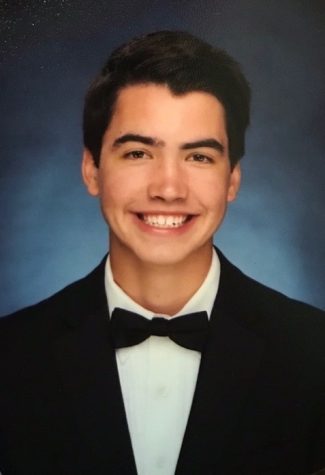 Reflecting on his time at CHS, Morken is saddened that many of his friends of over 15 years are going out of state, and says he will greatly miss all the familiar faces at CHS. Beyond that, he continues to reflect on his time on the CHS volleyball team, remembering and cherishing one-of-a-kind team bus rides and practices. However, as Morken closes that chapter and moves onto Pitzer in the fall, one thing he tells The Wolfpacket that one thing he will definitely not miss is his seven a.m. first period!