Speech and Debate Public Forum Captain Heads To Brown University
For many, attending an Ivy League university is only a far off dream. However for CHS senior, Chaerim Kang, this dream was well within her reach and has become her new reality. Starting fall of 2020, Kang will be attending Brown University. Through her success in her college journey, it becomes apparent that her hard work and dedication has truly paid off.
Throughout Kang's high school journey, she has been able to achieve outstanding academic success. Not only is Kang an IB diploma candidate with a rigorous course load, but she also was a National Merit Finalist, an achievement that comes with exceptional excellence in academic performance.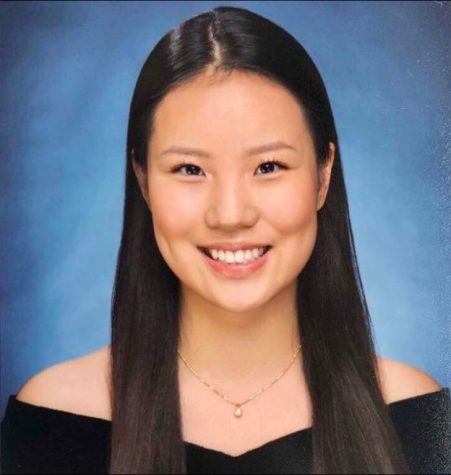 However, Kang was more than just an outstanding student at CHS. Through her roles as Co-Chair of the Claremont Teen Committee and Public Forum Captain of the Speech and Debate team, she was a leader who dedicated her time to helping others and benefiting the community. By representing student voices in city council meetings and working tirelessly to help bring opportunities and benefits to students across Claremont, it becomes evident that Kang has been able to positively impact her community. She increased her impact here in Claremont through her role as Public Forum captain in which she spent her time helping students become better speakers and excelling in debate. She was able to utilize her experiences and success for the benefit of others.
Kang's time at CHS has truly been remarkable. From being a dedicated student to a leader in her community, it's no doubt that she has been able to leave a positive mark in Claremont. However, she is excited and ready to embark on a new journey in attending the prestigious Ivy League school, Brown University in their Program for Liberal Medical Education (PLME). Through the PLME program, Kang will be majoring in Chemistry for her undergraduate years and will go on to attend 4 more years of Brown's medical school at the Warren Alpert Medical School. For Kang, this program along with many other aspects of Brown's education system led her to choose Brown over several other competitive Ivy League schools and prestigious universities.
"I was really excited to have gotten into a program at Brown that has been my top choice for a really long time," Kang said. "Attending Brown's PLME program gives me the opportunity to spend time in my undergrad to explore subjects outside of the traditional premed classes. I'm also really excited about Brown's open curriculum, where I am able to explore things outside my concentration freely. It truly is a great opportunity for me to pursue my dreams while being able to explore different interests I have."
Kang is also looking forward to continuing some of her passions she discovered during her time at CHS. At Brown, Kang hopes to continue medical research, a passion she found during her time researching in a microfluidics lab at the Keck Graduate Institute. She also aspires to be able to continue helping others by joining a community outreach program at Brown to help the disadvantaged/ underserved in the community and in the process, learn more about the US healthcare system.
However, as much as she looks forward to embarking on this new journey, there will be many things here in Claremont that she will miss. She is extremely grateful for the opportunities she has had here at CHS. She is grateful for her teachers, especially Mr. Thomas, Mr. Chamberlain, and Mr. Pettibone for having been incredibly supportive and for making her enthusiastic about being in those classes. She also is grateful for the help and support she has from her counselor, Ms. Mitchell, throughout her college application process.
As she leaves CHS, she also holds the memories of waking up at five am to go to Speech and Debate tournaments and spending time with her friends so near and dear to her heart. While she looks forward to pursuing her dreams and embarking on this new journey, she also looks forward to reuniting with her friends that she will just be hours away from. Her new journey will be filled with excitement and things to look forward to too and the Wolfpacket wishes her luck in this new journey. Congratulations Chaerim!