Ziena Smadi embarks on new journey with UCI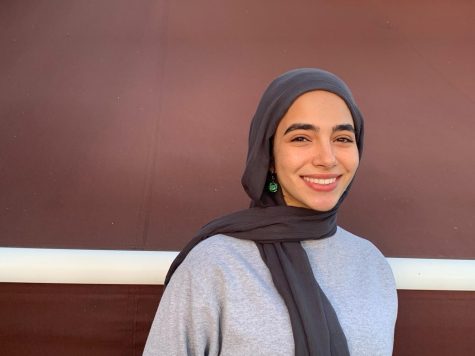 As seniors embark on their journey to college, they take a minute to look back on the experiences that they've had during their time in high school. For CHS senior, Ziena Smadi, her high school experience was filled with activities and memorable experiences, and as she embarks on her journey to attending the University of California, Irvine (UCI) in the fall of 2020, she leaves CHS with a sense of fulfillment.
Throughout her time here at CHS, Smadi has been extremely involved and immersed in the community. From being the Vice President of the Assigned Student Body (ASB), to involvement in the Refugee Assistance Program, Muslim Student Association, Association for Social Justice and Equity, Socratic Seminar Club, and being a hurdler on the Track and Field team, she has undoubtedly been able to make an impact here at CHS. Through her involvement at CHS, Smadi has been able to grow closer to the community while diving deeper into her passions. She has also dedicated her time after school to being on the Claremont Teen Committee where she worked with the city council to plan events in the city that many people enjoy. It is evident that for Smadi, her high school experience was more than just being an AP student but rather an opportunity for her to work to benefit her community, explore the things that she was passionate about, and grow as a person.
"My involvement here at CHS has led me to gain more confidence." Smadi said."It's much easier for me to talk to people and I think I'm more sure of myself and my own decisions, but I also believe I have a long way to go."
Through her academic experiences and involvement here at CHS, Smadi had grown to develop a love for science and history. This love for science and history has led her to choose to major in Public Health and hopefully minor in international relations this fall at UCI.
For Smadi, the decision to attend UCI was a difficult one. Initially, Smadi had decided to attend the University of Southern California (USC), but after having received an acceptance letter from the UCI waitlist, she chose to attend UCI instead, as its Public Health program had really appealed to her.
"I was debating between going to USC or UCI. I was actually waitlisted to UCI and was about to accept USC's offer, but the day before the deadline I got off the waitlist, and as their public health programs are weighted equally, I chose UCI," Smadi said.
Over the course of Smadi's time here at CHS, she has made many incredible bonds with her friends and teachers and memories that she will cherish. Some of her fondest memories were made with her friend Ani Singh and during her time in the classes of Ms. Kusano, Mrs. Bodnar, and Dr. Arboleda.
Through her hard-working personality and love for learning, there is no doubt that Smadi will succeed at UCI. As she embarks on this journey to college she is filled with excitement for what the future has to hold for her. However, as Smadi leaves CHS, she is sure to miss her friends and the interactions she has had and cherish the memories she has made and lessons that she has learned.