Aleks Watkins Goes To Carnegie Mellon A Year Ahead Of Schedule
A thoughtful, kind, and earnest presence on campus, Aleks Watkins will be missed by her peers in the class of 2021. Yes, that is right — 2021. Watkins, who was a junior until a matter of weeks ago, was accepted to Carnegie Mellon University in Pittsburgh through the Early Admission program offered there which allowed her to skip her senior year and enter college as though she was a part of the class of 2020. Watkins will major in engineering, and she is excited to explore the city, taste new food, apply to a host of internships, and experience the four seasons in their true Pennsylvania form.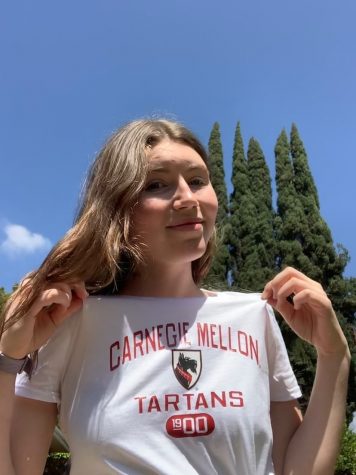 Watkins was an officer in Model United Nations and German Club and a part of the IB Diploma Program. A hard-working student, Watkins is in so many advanced classes, it is no wonder she skipped her senior year. Unlike many students with report cards as excellent as hers, Watkins genuinely cares about the world around her in addition to her various academic pursuits. She passionately spearheaded an initiative to improve German Club's sustainability, which, thanks to her, serves as a standard for other clubs on campus. However, Watkins would be the last to admit the pivotal role she holds on campus, due to her astounding humility.
Although Carnegie Mellon was to be on her list in 2021 due to its strength in STEM fields, its career-oriented nature, and its location, Watkins did not expect to be accepted to Carnegie Mellon this year.
"I didn't expect to get in at all, so I didn't tell anyone that I was applying: literally only two people knew I was applying," Watkins said. "So I just had to text my friends and be like 'yo, I'm going to college,' and it was interesting. I'll miss them a lot."
With an unshakable moral compass at her side and a diligent work ethic, Watkins will surely find success, and happiness, in life.
"After college, I want to get a job," Watkins said. "I don't really have any specifics in mind; as long as I can be employed and not live on the streets, I'm happy."
Watkins is clearly a lighthearted, yet earnest individual. Watkins would like to acknowledge Frau Tsai for making a difference for her during her time at CHS, and she also appreciates all that her friends have done for her. Indubitably, Claremont High students and teachers wish Watkins the very best in college and beyond, despite her haste to depart after only three years.