Post Malone: From High School to Success
Post Malone: the epitome of face tattoos, running in circles, and having a hard time saying goodbye. Post Malone, more famously known as Posty, is known for his classic heartbreak songs and intense ballads. However, Post Malone's music is about much more than being heartbroken and "Always Tired."
Austin Richard Post, more professionally known as "Post Malone," was born on July 4, 1995 in Syracuse, New York and raised in Grapevine, Texas. In a GQ 'Actually Me' interview, Post Malone then explained that his career was jump-started in high school, and it was there that he was voted "Most Likely to Be Famous," which inspired him.
When asked on how he came up with his infamous "Post Malone" name, he said, "When I was a little kid (in high school), I was looking for a nice name, like Wiz Khalifa, something that rolled off the tongue. I went to a rap name generator and typed in 'Austin Post' and it came up. It just stuck."
He released his first single "White Iverson" on Soundcloud in 2015, which gained praise from rappers like Mac Miller and Wiz Khalifa. This praise then gained attention from record labels and resulted in Post getting a recording contract from Republic Records. However, this seemed to be only the start for "high schooler" Posty. In 2016, he released his debut album, "Stoney," which included his single "Congratulations" that later was certified triple platinum, and the infamous "I Fall Apart." His second album, "Beerbongs and Bentleys," was released in 2018 and was an instant hit, becoming his first-ever number one album. Post Malone then collaborated with rapper Swae Lee for the "Spiderman: Into the Spider-Verse" soundtrack with the song "Sunflower," which rapidly climbed the Billboard charts. In late 2019, Post Malone released his third album, titled "Hollywood's Bleeding," which seemed to be his biggest album yet, selling over 400,000 albums.
With Post Malone rapidly climbing the charts and constantly performing at shows like Jimmy Kimmel and Jimmy Fallon, fans began to question whether he would take a break or release tour dates. However, in July 2019, he answered the demanding questions and announced the Runaway Tour, with Tyla Yaweh and Swae Lee as the openers.
Getting a glance at the venue beforehand, one word comes to mind: lines. At Honda Center, there were at least 10 lines trying to get in the venue, as well as lines for pictures with a Post Malone cardboard standee. Once inside, most fans went to the merchandise line, which nearly wrapped around the venue. After getting merchandise, at around 8:30 pm, rapper Tyla Yaweh performed. Tyla started off his concert with a tribute to the late rapper XXXTentacion, which made the crowd wave their flashlights to the song.
Each opener had about an hour to perform, and each performance was very hyped and engaging. Tyla threw roses into the crowd, and Swae Lee even threw his shirt out to the cheering fans. Tyla performed his iconic "She Bad," and Swae Lee performed his infamous "Black Beatles," which both had the crowd on their feet. Towards the end, the rappers revealed they would be releasing new music and gave a snippet of it. Soon after both performed, the crew began getting ready for Post's performance, dropping a black box onto the stage and starting up smoke machines. At around 10 pm, one could start to hear the opening of Post's "Hollywood's Bleeding," which made the crowd jump on their feet and scream, signaling the start of the concert. Throughout the concert, Post could be seen smiling and jumping around, singing his older songs like "Go Flex," "Congratulations," "Better Now," and songs off of his newest album like "Take What You Want," "Wow.," and "Enemies." Halfway through the concert, Post slowed the tempo down and introduced his infamous "I Fall Apart."
"Now, before I play this next song, I would like to dedicate it to everyone who has ever had their heart broken. It's for y'all, and I know it sucks, but here's I Fall Apart," Post said, smiling sadly before singing.
Though Post does appeal to teens, many adults can be seen at the concert with just as much energy, smiling very excitedly and happy. As the concert ended, many avid fans could be seen crying.
"He was great, wasn't he?" a woman said happily after the concert, despite her tears. "I'm 68, and my husband's 69. He surprised me with tickets, because I'm such a big fan of him. I think he's so great, he appeals to the whole spectrum."
To some, Post Malone may be a rapper who only sings about love and heartbreak, but to others, he is much more than that. Post Malone's story of starting as a Soundcloud rapper in high school to blowing up and being able to go on world tours is truly inspiring, and it shows the true Post.
Hello there! Our goal is to provide relavent, engaging journalism for readers of all ages. Your donation will support the student journalists of the Wolfpacket at Claremont High School, and will allow us to purchase equipment, print our monthly issues, and enter in journalism competitions. We appreciate your consideration!
About the Writer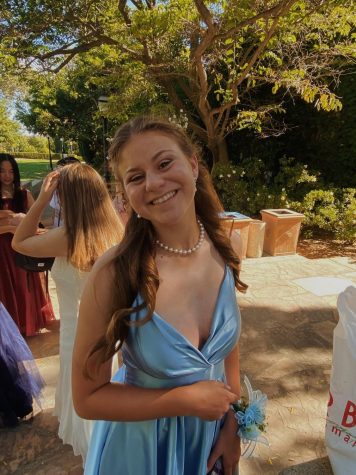 Casey Shoultz, Head Sports Editor
If you have explored Instagram in the vast few months, there is only one person that has continuously posted updates from their favorite musical artists...