CHS Theatre Presents "Honk! Jr." and Makes a Splash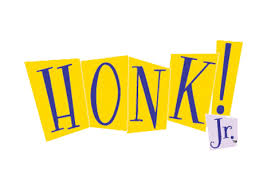 This month on April 21 and April 22 CHS' Children's Theatre presents a heartfelt, lesson-filled show called Honk Jr. which draws inspiration from the childhood stories of "The Ugly Duckling" combined with an in depth performance of the complications in the duckling's life. This show portrays the whole idea of a duckling feeling left out because of its ugly physical appearance, but incorporates new characters and goes into depth about certain facets of the duckling's life. The main characters in the show include: Ugly who is played by freshman Gabriel McGrath, Ida played by junior Elisabeth Chua, Drake played by sophomore Luis Mendez, and Cat played by sophomore Kaelyn Kilpatrick. All of these students in Children's Theatre have worked hard to put together a special show that people of all ages can enjoy.
"The message in the show teaches children that it is okay to be different because everyone is unique in their own way," senior and Honk Jr. actress Naomi Almeria said. "Some special aspects the kids will love is the singing, the confetti, and the interactions with the audience."
Theatre teacher and director Krista Elhai decided on Honk Jr. to be the next show due to its challenging roles requiring students to perform animalistic movement and body language necessary to properly perform the role. The student actors do not usually play animal roles, so getting into the character of an animal and portraying them will be an interesting experience for both the actors and audiences.
"I'm betting that most of our audiences haven't seen this show—- it's not done very often," Elhai said. "They will leave humming the music and loving the message the kids in our audience hear. The show has very good music and a story with a great message that being different is okay."
The Honk Jr. shows will only be offered on April 21 at both 6:30 and 8:30, and on April 22 at 4:30 and 6:30. Tickets for the shows will be sold online for seven dollars as a presale, and for eight dollars at the door to enjoy an evening watching the story of Honk Jr. come to life on stage by CHS' very own Children's Theatre class.