Claremont Football Seniors Receive an Award from the NFF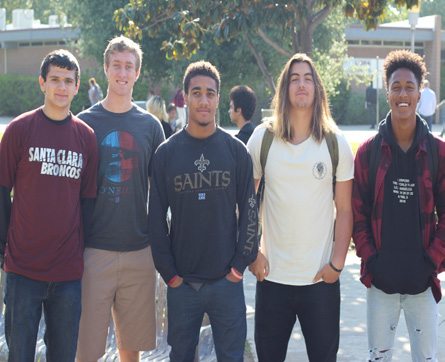 Each year, seniors from the Pasadena and San Gabriel Valley who are involved in high school football are recognized for their academic achievements. The students are awarded the Scholar Athlete Award by the National Football Foundation (NFF). This year, five CHS students, including seniors John Bifone, Kevin O'Connor, Maxx Shapiro, Mato Pacheco, and Damien Cannon, were awarded for their academic achievements on March 22 at the National Football Foundation Scholar Athlete Gala Banquet.
The NFF Chapters throughout the U.S. present this Scholar Athlete Award to high school seniors who have exhibited outstanding
football performances, leadership, dedication to community service, citizenship, character, and of course high academic achievement. They present football players with this award to encourage high school students to participate in football and eventually receive the same kind of achievement. The Scholar Athlete Award is a special honor because it is a selective award that only few receive. The CHS football players were nominated for this award by their coach Jose Jarin, also known as Coach Coco. Jarin nominated 7 from the team, but the NFF narrowed it down to five athletes that met the characteristics of a scholar athlete.
"I think the players chosen were five kids who deserved it," Jarin said. "They were worthy of the nomination and did everything that they had to do in the classroom, on the field, in the community, and within our school structure with the family here at Claremont. I don't think there could've been anyone else at this point that would've represented us in the fashion that they do."
All five CHS scholar athletes are very honored that they were chosen to receive this award by both their coach and the NFF. The players appreciate the fact that not only themselves, but the other athletes as well, are being recognized for their achievements as student athletes.
Many of the players were surprised that they were nominated to receive this award. They either had never heard of this foundation and award before, or they did not imagine that they could qualify as an honorable scholar athlete. Although some of them have always been very good at maintaining their grades while also participating in other sports, it still came as a surprise to them that they were selected out of many to receive this award.
"The award is special because I am able to represent my former teammates and school. [The award] is also special to me because my brother won it last year, and I think that's pretty cool," senior and recipient Kevin O'Connor said.
All qualified football players from each of the high schools in the Pasadena and the greater San Gabriel Valley were selected to represent their schools at the annual National Football Foundation Scholar Athlete Gala Banquet. The banquets have taken place for over 40 years, and they will continue to hold this event that celebrates the scholar athletes each year. The players agree that the NFF is a great foundation for recognizing students and that it should continue on for the future scholar athletes to come.