Athlete of the Month: Star Quarterback Nathan Giles
Under bright Friday night lights, a crowd of hundreds has their eyes on one player: Quarterback Nathan Giles. His every throw dictates how the game will go for the Wolfpack. In his attempts to move the ball downfield and get the Wolfpack a touchdown he needs to use everything in his arsenal: shifty speed, a strong arm, and high intellect.
Giles has been playing high school football since freshman year which has given him time to rough out the edges and fully understand the quarterback position. He believes that an integral part of being a quarterback is being able to make the team work well together through discipline and hard work. For Giles, football runs in his family. It all began with his father, who played football throughout high school, which inspired Giles to take after him. Filling in his shoes is no easy work, and Giles believes that more technical sides to the position like reading coverages, pre-snap as well as post-snap reads, present a daunting challenge to overcome. This means that he needs to be able to read the defensive moves to be able to better exploit their weaknesses.
Throughout the four seasons of football that Giles has played here at Claremont, the team has reached many milestones. Giles looks back fondly on one game in particular against the undefeated Arroyo High School. Their win against them cemented a historic moment in Claremont High School's football program.
"We beat Arroyo last year, which was the first CIF win in 19 years, it was super exciting to be a part of history," Giles said.
Currently sitting at a record of five wins and two losses, Claremont looks poised to make another deep CIF run. The Wolfpack has scored an average of 27.5 points in their last six games. This electrifying offense wouldn't be possible without Giles and his style of play. Giles' game is reminiscent of the Baltimore Ravens quarterback Lamar Jackson.
"I try to model how I play after Lamar Jackson in terms of running the ball," Giles said.
Some parallels between Lamar's game and Giles' come down to being mobile in the pocket and never letting the defense know your next move. With 160+ yards rushed this season alone, along with 5 rushing touchdowns through the first 6 games, it is easy to see the comparisons between the two quarterbacks.
Giles plays as a kicker for the Wolfpack as well, his years of soccer coming in handy. Playing as a center back for 10 years on the Foothill Storm soccer club, as well as the school team, helped Giles gain a strong and accurate leg allowing him to be a reliable kicker, which only adds to his diverse skillset as a quarterback.
As the Wolfpack football team continues its season, they hope to capitalize on the head of steam they have built up so far. With Giles leading the pack, using his wide range of skills available, many more wins are destined in the future.
About the Writer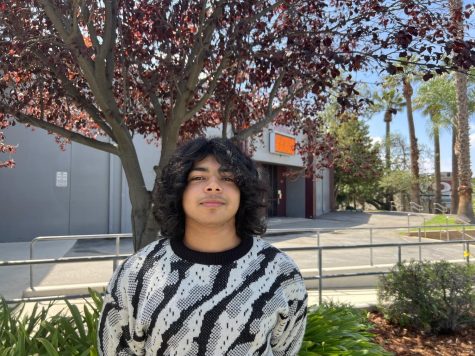 Lorenzo Cano, Reporter
Lorenzo is a Senior at Claremont Highschool and a reporter for the Wolfpacket. Their current favorite musical artists include Youngboy Never Broke Again,...