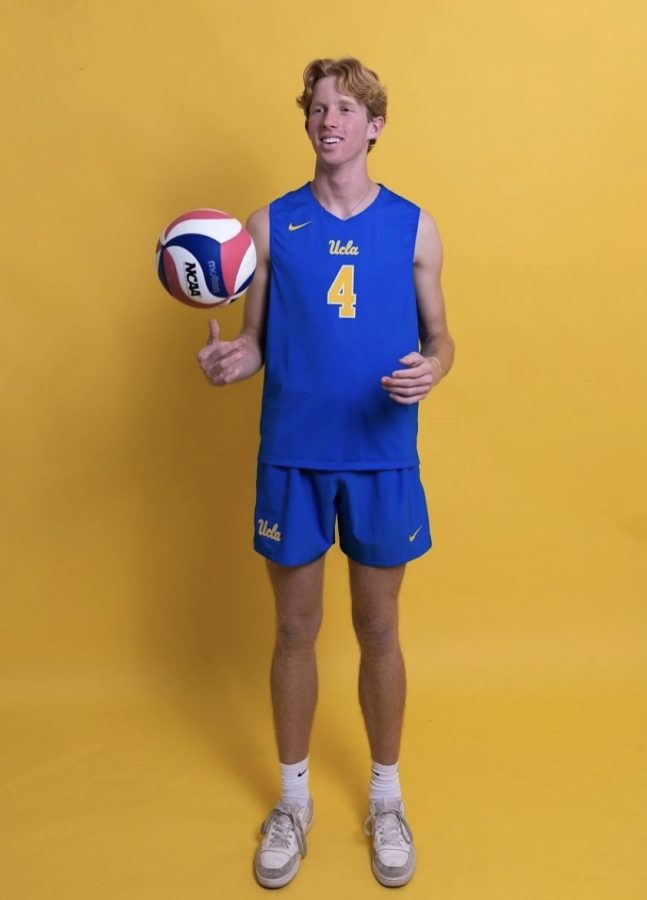 Athlete of the Month: Caleb Sapp
Roars of cheers spring out in the background as one player pulls the attention of the surrounding crowd: Caleb Sapp. Sapp is essential in leading the Wolfpack Volleyball boys to victory as the outside hitter for the team. Sapp's position is considered the most versatile as the lead attacker in the offensive. He has to be quick on his feet, be able to jump high, and adapt to distinct situations. For Sapp to successfully strike the ball on the opposite side of the net, he would have to use every skill up his sleeve.
Sapp has been playing volleyball since his seventh grade year in 2019. Before the start of his volleyball career, he played baseball. Through a friend who had played baseball with him, he was introduced to a couple of volleyball clinics and he quickly fell in love with the sport. Pretty soon after, Sapp began playing club volleyball as well as varsity volleyball at the start of his freshman year at Claremont High. These two decisions swiftly became the beginning of a successful athletic career with many new opportunities to come.
For the duration of the three seasons he has played with Claremont and the time he has played with his club, both teams have attained many achievements. Sapp looks back at one game with particular fondness against the unsurpassable Upland High. Despite the loss that CHS endured with this game, Sapp still likes to think of this game as his most favorite.
"The Upland team was very good so there was a really high competition," Sapp said. "The whole team was playing well, I was playing well, and all of my friends and family were watching. It was just a very huge game and a fun time even though we lost."
As of this current season, Claremont Boys' Volleyball have gone 16-6 overall and have gone 5-1 in Leagues. Claremont played multiple pre-season tournaments against Orange County teams. As of March 15, CHS is top three in division four while Claremont and Upland are both top two teams in League. Sapp got about 25-30 kills in the game against Etiwanda this year. Kills are awarded to players every time the opposition cannot return the ball, leading directly to a point. Sapp recalls it as one of the best games that CHS has played this entire season.
Sapp's volleyball career has reached a peak with his recent commitment to UCLA as a junior in high school. Sapp had soon switched over to Balboa Bay for club volleyball and that opened up a new set of opportunities for him. Balboa Bay has been one of the nation's top volleyball clubs since 1975. This club is known to have college recruiters scout for new talent very frequently. Sapp was actually scouted by 15 schools but narrowed his options down to Stanford, Princeton, USC, UCSD, and UCLA, ultimately deciding to commit to UCLA.
"I picked UCLA because I have always wanted to go to UCLA and they have the best team out of those five schools," Sapp said. "I fit with the team at UCLA a lot better and I was able to fit in well with the academic side of the school too."
Lastly, Sapp would like to shout out CHS graduate Reed Morgan, and Coaches Bernie and Sue who have continuously pushed him to be a better volleyball player from the start of his varsity career at Claremont High.
As the Claremont Volleyball team progresses through the season, and as Balboa Bay continues to take wins, the one constant in the achievements of both teams is Caleb Sapp. With his skills leading both teams, and his recent commitment to UCLA , more victories are seen to come in the future.