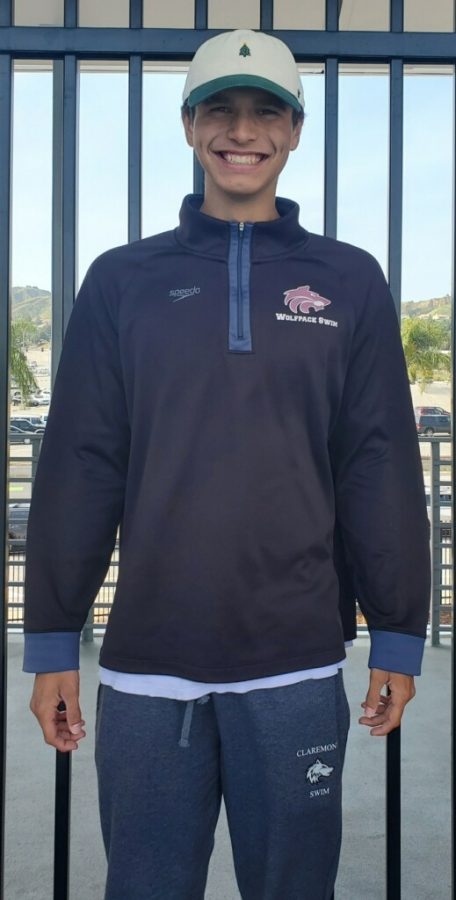 Athlete of the Month: Roman Savage
Roman Savage, captain of the CHS swim team and a qualifier for CIF, has been dedicated to swimming his entire life. Savage started taking swim lessons when he was three years old, and joined his first competitive club team, Mount Baldy Aquatics, when he was seven years old. After two years of swimming for MBA, he joined The Claremont Club swim team when he was nine. In 2020, Savage moved with the TCC swim team to practice at the San Dimas Aquatics Center and became part of San Dimas Aquatics. He still swims for them to this day.
In the fall, Savage is set to attend Kenyon College where he will continue his swimming career. He will be swimming the long-distance freestyle events, but he has been working on his other swimming strokes and might try out the Individual Medley events, where all four swim strokes are done in one race. He plans to major in either philosophy or political science but is also interested in international relations and psychology. Savage said that swimming has changed his life by being the reason he gets to attend Kenyon.
Savage's favorite event is the 100-yard butterfly, but his best events are the 1000-yard and 1650 (mile) yard freestyle. In a normal high school meet, he will swim the 500-yard freestyle and the 100-fly. This summer, Savage is swimming at the Futures Championship, an incredibly fast meet that you have to hit certain times to qualify for. He will be competing in the 100 butterfly, 500 freestyle, and 1650 freestyle.
His favorite parts of swimming are relays and the last 100 yards of a race. He enjoys the relays because he loves swimming for a team and it encourages him to perform better. He likes the last 100 yards of a race because he loves the rush of chasing and catching up with his fellow competitors. Savage's favorite memory of his time swimming was during the 2021 Winter Age Group Championship.
"I met a lot of new friends there, and we all messed around and had fun in the bathroom until they kicked us out," Savage said.
He says his all-time favorite meet was the CIF championship for high school swim his sophomore year. He had a great time with his teammates and also performed well in his events.
For him, the most challenging part of being a swimmer is waking up at 4:30 every morning to go to practice. It is quite the commitment as Savage attends an astonishing ten to eleven practices a week. Before a race, he normally does a short warm-up thirty minutes before, and then splashes himself right before he gets in the pool to race. To get hyped for racing, he listens to Phonk or anything by Freddie Dredd.
Recently, Savage was part of the 200 Freestyle relay team that broke a school record. In addition, he broke the school record in the 100 Butterfly at the League Finals swim meet, setting a new Mount Sac pool record.
Outside of swim, Savage is an officer in the Voices for Change Environmental Club and is president of the Ultimate Frisbee Club. In his free time, he likes to listen to music and watch movies, and play the "Magic: the Gathering" card game. Between Futures this summer and his upcoming collegiate career, Savage has much to look forward to.