Drum major: Max Dvorak September Athlete of the Month
A grandiose symphony of music, a glorious combination of woodwinds, brass, and percussion all conducted by one head drum major: Max Dvorak.
Being the head drum major, there lies a great responsibility to conduct the band, maintain tempo, keep fellow students in line, and act as a role model. Leading a band of upwards of 60 people is no easy task and it comes with its fair share of challenges. But, Dvorak's ability to conduct the madness is commendable.
Dvorak works with his assistant-drum majors, junior Edgar Chacon and senior Ephram Teran, and the band director: Burke Shouse. His work consists of standing on an elevated platform centered on the football field's sideline, his two co-drum majors standing on similar platforms on either side of him, signaling the start of the field show, counting the tempo, and signaling the end of the performance through its three movements and multiple tempo changes.
The show is all student-run, meaning Mr. Shouse plays no part in conducting, Dvorak and his co-drum majors control it all. The show begins with an eccentric signal from Dvorak to the judges that the field show is ready to commence, with that he turns to face his band and proceeds to count them in. His timing is crucial, dictating the speed of the show, making sure to keep in mind the tempo changes and important visual segments as well. To someone unfamiliar with conducting the fluctuating rate of his arms may seem strange but to Dvorak, it is like second nature.
"When I first get out there I am facing my peers and I am thinking that these are the people that I am about to lead," Dvorak said. "I always think that everyone is going to do great and I try to will that mentality into existence, but I will say it is the scariest feeling right before the show starts, the timing and everything has to be perfect."
The details of his performance mean a lot, the confidence Dvorak exudes as he marches onto the field to the passion behind his salute all play a part in how the performance will go.
"Pointing into the sky during my salute symbolizes the fact that I am here," said Dvorak. "I know I am not a crazy athlete and I may just be a band kid, regardless I am here and ready to show everyone what we have worked so hard to accomplish."
About the Contributor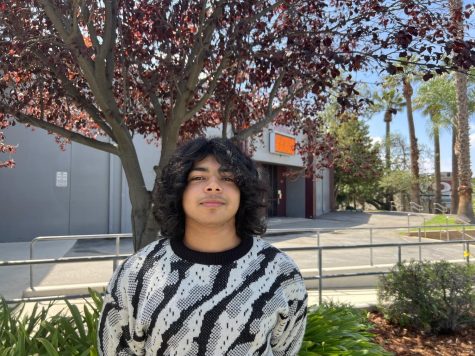 Lorenzo Cano, Reporter
Lorenzo is a Senior at Claremont Highschool and a reporter for the Wolfpacket. Their current favorite musical artists include Youngboy Never Broke Again,...