School Lunches That Will Shock You!!!! (Must Taste Number 3!!!)
The pandemic slowed the sizzling-hot Claremont cuisine-reviewing business to a crawl. Dining establishments from Michelin-star restaurants like Pepo Melo to small mom-and-pop shops like Yogurtland closed their doors, leaving aspiring young foodie writers with no alternative but to put their passions in a takeout container and find jobs as accountants and telemarketers instead.
But not me! I persevered, reviewing any food I could get my hands on: Albertson's frozen burritos, Panera Bread soup and sandwiches, Wendy's Junior Chocolate Frosties, and even Domino's "Two-for-One Extra Cheezy/Extra Pineapple" pizzas. As quarantined Americans searched for classy reviews of classy food options, they turned to my work for hope. And now the arc of my culinary journey is nearly at its climax— I have been invited by renowned educator and pastry buff Kevin Glavin to review Claremont High School's school lunches!
Day 1: Mini Corn Dog Entrée with Apricot Fruit Cup and Apple Side
The corn dog has a homogenous soft texture. It can be eaten in one or two bites, depending on lip-stretching range. The taste is not reminiscent of either corn or dog. There is little memorable flavor besides the ketchup.
This critic is not a huge fan of the bright orange purée which goes by the name of Apricot Fruit Cup, but she may be biased due to her pre-existing dislike of apricots. However, the cup was a lovely tangerine color. Mouth-feel is initially crunchy, flaky, and cold at first bite, but as you get more into the meat of the treat you taste bitter and wet apricot pieces. Apricot fans probably love it.
By far the most enjoyable part of this snack is that it provides a different tasting experience depending on how long it sits in the sun. It also earns points for being natural and minimally processed, in contrast with the highly processed corn dogs.
Day 2: Spicy Chicken Sandwich Entrée with Carrot Bag, Banana, and Nacho Cheese Doritos Side
I've heard from many of my food-reviewer colleagues that this is one of the most popular CHS lunches. Unfortunately, I was disappointed with the diversity of ingredients in the sandwich: the only ingredients are bun and chicken patty. There's no pickle, lettuce, tomato, or onion to add to the dining experience. Sauce is provided upon request, but this review focuses on the heart of the dish—the spicy breading, which turned out to be surprisingly well done. This reviewer considers herself a connoisseur of spicy chicken sandwiches, from Chick-fil-A (best despite the guilt) to Wendy's and Burger King. Going by spicy breading alone, the CHS patty holds up surprisingly well against the competition. While one anonymous source claimed to have found both a feather and a bone (species unidentified) in her patty, I question the integrity of this report.
The baby carrots and banana sides made the meal healthy and balanced. (Thanks, Mrs. Obama!) The Nacho Cheese Dorritos, which were likely a Trump Administration addition, provide a daily dose of trans fats.
Day 3: Mozzarella Cheese Stix with Marinara Sauce Entrée with Strawberry Fruit Cup and Carrot Bag Side
The cheese stix present a pleasing contrast of crunchy and chewy textures. The outer breading is the perfect thickness to prime the diner's taste buds for an explosion of cheesy flavor. However, the explosion does not quite materialize, as the cheese is bland and probably not mozzarella. Luckily, the marinara sauce helps the dish recover, with its prominent tomato essence and a subtle hint of oregano. The cold sauce also pairs nicely with the warm stix.
The carrot bag has an elegant and accurate label, and a crisp bottom-water finish. The carrots themselves are slightly dry, which is a mystery given that they are served in a bag of bottom water.
The strawberry fruit cup gets this reviewer's highest praise of the week. The cup is a beautiful reddish pink explosion of berry-licious flavor. It tastes like a popsicle on a hot summer day. The reviewer was immediately transported back to a time before high school robbed her of her youthful idealism– a time of running to catch the neighborhood ice cream truck and splashing in the tiny pool at Memorial Park with the lifeguard watching over the six inches of water. This dessert exudes BSE (Big Slushie Energy) until you hit the strawberry chunks, which take it all the way to HSE (Huge Slushie Energy). I have no critiques. I have no more words.
Thank you CHS and Mr. Glavin! This concludes my review.
Hello there! Our goal is to provide relavent, engaging journalism for readers of all ages. Your donation will support the student journalists of the Wolfpacket at Claremont High School, and will allow us to purchase equipment, print our monthly issues, and enter in journalism competitions. We appreciate your consideration!
About the Contributor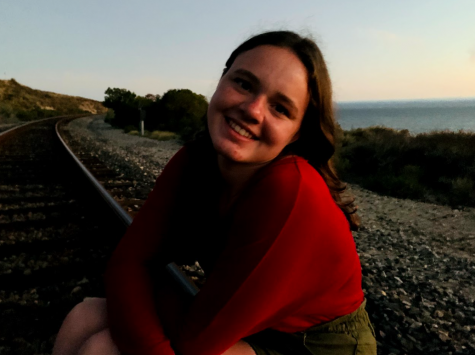 Meghan Mason, Assistant Editor-in-Chief
Meghan Mason is a senior at CHS, and this is her third year on the Wolfpacket staff. Mason is the Assistant Editor-in-Chief this year, and cannot believe...