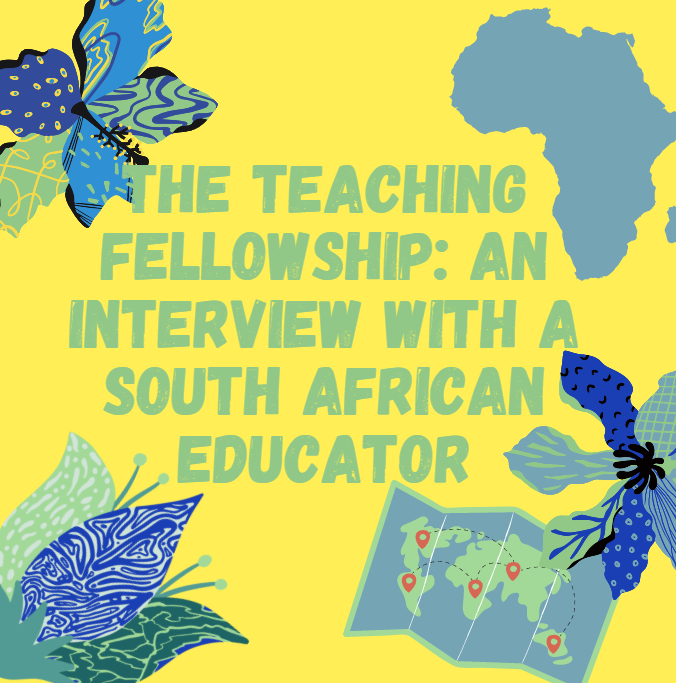 The Teaching Fellowship program grants educators the opportunity to study in life-changing ways. A select few teachers receive personalized support from the program, cultivating their educator skill-sets with the goal of creating a positive impact on their classrooms and communities at large. Claremont High School had the fortune of housing several T-Fellows educators throughout the months of September and October, where CHS students studied side-by-side with international teachers. As educators become exposed to new styles of teaching, they can then apply it to their own curriculum.
Educator Monare Willem from South Africa gave insight to his experience in the T-Fellows program, where he spent three weeks stationed at CHS. He sat in on various classrooms, spanning from AP Composition to Mathematics, curiously taking note on teaching styles and lesson dynamics. Willem personally teaches social studies in the township of Mamelodi.
"My township of Mamelodi has superb weather, and there are many foreigners that visit for the wonderful climate," Willem said.
He enjoys the sunny climate and warm community of South Africa, but acknowledges that the schools are still developing. "Most of our learners migrate from rural to urban areas in order to receive education. It's becoming very overpopulated as people strive to develop."
Willem is very passionate about the importance of education and its ability to enrich student's lives. "Education can be used to fight poverty, and that inspired me to become an educator, to see that my community is well informed." Willem said, then reflects on his classroom experience at CHS.
"It's amazing. I see disciplined learners, well-prepared educators, the basic functionality of the school is there. What amazes me is the learners working so hard to achieve their goals."
This was Willem's first time outside of his home country of South Africa.
"It has been a really big change, and there is so much knowledge to take home." Willem said. "I have learned a lot and I am still learning! Claremont is one of the greatest areas I have visited. It's so amazing, and the best for one to experience- I am experiencing the world through Claremont. It's a special place."
Willem has ambitious goals from being a part of the Teaching Fellowship, at the top of the list is improving the state of education in his community- he is currently working on developing a plan with the alumni, district officials, and community members of Mamelodi. He hopes this plan will be able to bring the lessons he learned from his time at CHS to his fellow educators back home. Monare Willem's experience is one of intellectual enrichment and positivity. Through his time at Claremont High School, he can return home and guide the students of Mamelodi to a more stable educational future.