5 Seconds of Summer lead singer Luke Hemmings debuts solo album and it's "A Beautiful Dream"
When looking at the music industry and the multitudes of bands and groups releasing music together, the interviews and pictures full of smiling faces and happy quotes about one another must seem like a perfect scene to the public eye. There can't be any arguments or differences, one might think; they're too strong of a group to think differently. However, it has become very normalized for bands to stay together, even when there are creative differences between each member. Perhaps it's due to the rising popularity of the group, or how well financials are doing, but this can be very toxic for some groups— it can cause them to break up, or not produce as high of quality of music. Yet, one specific Australian Punk Rock band has broken through the molds of the music industry, with some of their members releasing music on their own. Introducing Luke Hemmings, lead singer of 5 Seconds of Summer, with his new, solo, debut album, "When Facing The Things We Turn Away From."
On June 28 of 2021, Hemmings posted a film photo of him playing the guitar on Instagram with a conspicuous caption: "Tomorrow. 9 PM PST." The next day, the official announcement of "When Facing The Things We Turn Away From" (WFTTWTAF), was posted, alongside the authentic cover art of the album and the first single, "Starting Line."
"I couldn't be prouder to introduce you to 'When Facing the Things We Turn Away From'; a project that grew out of a year of enforced stillness. I'm so grateful for the journey this album has taken me on and I'm so thankful to have had this creative outlet during my time at home. Lyrically and sonically, this album has allowed me to decipher the last 10 years of my life and help me make sense of the person I am today and how I got here." Hemmings wrote. "It will be released everywhere August 13. Today, you can hear a first taste of the album; 'Starting Line.' Thank you to my brothers in 5SOS for your support and allowing me to pursue this project. Endless love to you."
When Hemmings first announced the release of his album, many fans feared that the band he was the lead singer of, and that so many fans would come to love, would be ending. 5 Seconds of Summer (5SOS) drummer Ashton Irwin had also released his own solo album, "Superbloom," in late 2020; however, Hemmings reassured the public that the band is still together.
"I love being in 5 Seconds of Summer. I love being in that band. I wouldn't change anything about that— except maybe some fashion choices I had back in the day." Hemmings said in a NME: In Conversation interview. "I wouldn't change anything about that time, so I do always want to say like, there's no ill feelings towards it. It's just… it is what it is and there was, you know, moments where it was confusing and difficult. It's left a lot of gaps in my humanness, I suppose."
Posted first in a short, 30 second clip on YouTube, "Starting Line" was the first single of Hemmings to be released and listened to. The song emphasizes the reflection of Hemmings, and the past 10 years of his life passing by in the blink of an eye. First starting in 5SOS at just 15 years old, Hemmings spent a larger portion of his adolescence in the spotlight and music industry. Now 25, he expresses through lyrics like, "Standing on the sun and I don't feel a thing," and, "Biting on my tongue and checking if it bleeds," that an important part of his youth was taken from him, due to his involvement in the band and not being able to make memories like a normal teenager would. "Starting Line" has an incredible buildup as the song progresses, the chorus especially accentuating his feelings throughout the years— "I wake up every morning with the years ticking by / I'm missing all these memories, maybe they were never mine / I feel the walls are closing, I'm running out of time / I think I missed the gun at the starting line." During the bridge, Hemmings continuously sings, "Take me alive, make a liar, take me alive / Don't look away until it's gone," singing as if he is telling himself to not look away from all of the present things happening in his life, otherwise it will be gone. It is truly a great song to not only be the first track of the album, but also introduce the WFTTWTAF era and Hemmings' feelings.
Anticipated to be a sad and more melancholic tune, "Saigon" surprised fans with its cheerful and upbeat production by producer Sammy Witte. The song is essentially about the feeling you get when returning from a trip or vacation, and having to return back to your normal life and activities; you may not have realized it then, but now that the trip is over, you realize how amazing the experience was ("Oh, you never know inside those moments / How good it was, and how you wasted / All this time alone"). "Saigon" is specifically named after a city in Vietnam, where Hemmings and his fiance, Sierra Deaton, took a trip with their mothers.
"This entire album was written in the moments of stillness that quarantine forced, and I spent those months facing the things I turned away from—the good, the bad, my regrets, needing to get help." Hemmings said in an Apple Music interview. "Through all those times, I kept thinking about how euphoric that trip was, and how I wanted to keep chasing those highs I felt. I reflected on the sad truth that sometimes we can't appreciate the best moments of our life until they've passed us by and are out of reach."
"When Facing the Things We Turn Away From" is actually sang in "Saigon's" chorus, giving the title of the album a new meaning ("When facing the things we turn away from / We're chasing the way we were in Saigon / Oh, it's picked apart until there's nothing left of us to carry on / Now we're facing the things we turn away from"). Hemmings is trying to chase the feeling of the trip to Saigon, while simultaneously turning away from problems; picking apart every memory of the trip, there is nothing left to do but face the things we turn away from.
The third single Hemmings released, and the most unexpected, "Place in Me" captures the feeling of letting someone down. Hemmings had written in a personal Email Newsletter sent out to fans that he had written the lyrics as if he were leaving a message on someone's answering machine who he loves dearly. The song is everything heartbreak sounds like— sorrowful, wistful, and dismal, but after listening to the song and how the singer had written it, it adds a more personal touch to the song. "Place in Me" is angelic and intimate, with Hemmings reflecting on the person he loves and their experiences together ("I was just dancing in the dark / Now with my eyes wide open / It's heaven in your arms," and, "Sun's gone / But you always liked this time of day.") However, the ending may just be the best part of the song, as the beat switches from a slow acoustic to a soft ballad, and the lyrics emphasize the title of the track ("Don't you move / Can't we just stay? / Can we start over? / Don't fade away / 'Cause you'll always have a place in me / You'll always have a place in me"). Hemmings has stated it is one of his favorites on the album, and it is hard to disagree with the background of this song.
Starting an eccentric career in the music industry and going on multiple tours with worldwide fame, Hemmings reflects on the bustling lifestyle of his career and not staying in touch with one of the only people who has been with him the whole of his career: his mom. In the seventh track of WFTTWTAF, titled "Mum," Hemmings sings about his regrets of not calling his mom, while also apologizing for his past mistakes ("All the things I did / Just drown it out"). Due to the COVID-19 pandemic, Hemmings has been unable to visit or see his mother in person, as she lives in Australia and is unable to fly to America.
"This song is essentially a letter to my mum. I think as you get older, you tend to appreciate family more and more. I've grown up a lot and have never appreciated my family more than in these two years that I haven't gotten to see them." Hemmings said in an Apple Music interview. "One of my favourite musical moments on the whole album is at the end of this song—I love how it makes me feel. The wall of guitars and synths and the soft outro vocal balance each other really beautifully to me."
The ode expresses Hemmings' homesickness and longing to see his mother, as he continuously dreams of "chandeliers" and her voice ("Can't stop dreaming of chandeliers / And your voice is all I hear," and, "I keep these dreams like souvenirs / Always ringing in my ear"). It is truly a sentimental track, and you can hear Hemmings' feelings in both the lyrics and the production of the song, which makes it worth a listen.
"Is this the way it will always be?" Hemmings sings in the extraordinary track, "Diamonds." Sammy Witte's production shines in this song especially; it is a slow, melodic tune that displays Hemmings' honest feelings about his journey in life. Before I begin to dive too in depth with this song, I would like to note that this song has mentions of depression, which may be triggering to some readers.
The first verse is extremely personal and introduces the tone of the song, with lyrics like, "I'm so much older than I ever thought I would be," and, "I hurt the people I love the most / I'm so much colder than I ever wanted to be." Hemmings reflects about where he is in life, and how unexpecting it was to him that he has experienced so much.
"It's the most honest I've ever been in a song. To be frank, I didn't think that I was going to make it to 25, for many different reasons." Hemmings said in an Apple Music interview. "It's about being a young individual and going through such a whirlwind of an experience and being unable to handle it in a lot of ways."
"Diamonds" expresses how Hemmings was feeling as he grew up in such a surprising, yet difficult, spotlight; there's a "same old silence that [he] has come to know," where "every time [he] finds it when there's nowhere left to go."
"When Facing the Things We Turn Away From:" a beautifully written and produced album by Luke Hemmings and Sammy Witte that was unexpectedly released in the mid summer of 2021. It reflects on the highs and lows of living in the Hollywood spotlight, the euphoric feeling of living in the moment, and being homesick after years away from home. Though it just came out a little over a month ago, this spectacular album is surely a must listen to.
"When Facing the Things We Turn Away From" Ranked:
*As I have continuously ranked and analyzed no skip albums, please note this is also another no skip album
"Starting Line"
"Place in Me"
"Saigon"
"Mum"
"Baby Blue"
"Diamonds"
"Slip Away"
"Bloodline"
"Comedown"
"Repeat"
"Motion"
"A Beautiful Dream"
Hello there! Our goal is to provide relavent, engaging journalism for readers of all ages. Your donation will support the student journalists of the Wolfpacket at Claremont High School, and will allow us to purchase equipment, print our monthly issues, and enter in journalism competitions. We appreciate your consideration!
About the Contributor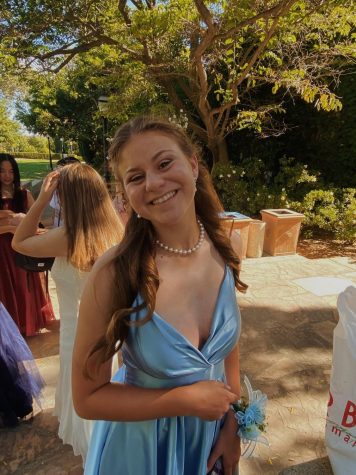 Casey Shoultz, Head Sports Editor
If you have explored Instagram in the vast few months, there is only one person that has continuously posted updates from their favorite musical artists...