Tough toll of cross-country (Sports Opinion)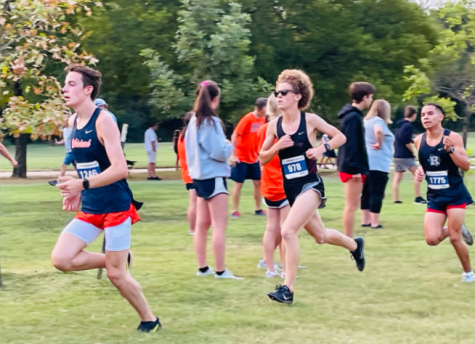 When we think of superhumans the first things that come to mind are the children's superheroes we watched as children, whether it be Superman, Spider-man, or The Hulk. In reality though, superhumans live amongst us in everyday life. They might sit next to you, eat lunch with you, or even be one of your friends. These CHS students, or superhumans, are those on the Claremont cross-country team running from 30-60 miles in one week, doing intense hurdle and weight training, but most of all falling down and getting right back up. At CHS, we have a multitude of sports that range from water polo to golf to a fictional marble-racing team; you name it chances are CHS has it. When watching Wolfcast though, the only sports that seem to be talked about are basketball or football. However, one of the teams that does not get enough recognition is the cross-country team. The cross-country teams have gone through great challenges over the years and faced the most injuries, yet always pull through no matter what the challenge is. Whether it be the major time commitment, the hard workouts, or the huge pressure to do well in practices, the challenges are big.
"We practice 6 days a week for about 4 hours a day, so it takes a lot of sacrifice and dedication," Amanda Lai, a CHS sophomore on the cross country team states. "We practiced throughout the summer and it was full of hard work and rigor."
With these hours off from their normal days and especially with the new schedule ending later, it takes a bit of time away from school. It is a massive challenge and extremely difficult to the point where the competitors debate even being part of the team. Not only are these practices massive time commitments, but the injuries are strenuous too. CHS' cross-country teams tend to get quite a few injuries here and there, which leads us to wonder how they receive so many.
Out of all the teams it seems that they get the most, so why should they be getting all these injuries? Our cross-country runners should not be pushed to run past their limits when dealing with shin splints constantly.
Elizabeth Platonov, a CHS senior who has been on the girls cross-country team for four years, reflects on the team's injuries.
"We get a lot of injuries in cross-country, and I think everyone on the team has had an injury from shin splints all the way to knee problems", Platonov said. "I have been actually sitting out for most of last year and this year from a leg injury, mostly just because of running high mileage every day on the pavement and not stretching the right muscles in practice."
Despite this, Claremont high school has a ferocious cross country team. It is because of this determination that the cross-country team has become the best they can be as a group, but in the end at what cost? Their last meet the team won multiple students of top 10 awards only showing a force of their skill while there varsity members were at texas competing for another race. Yet, no matter how good they are, the team should not be sacrificing the students' health for a couple of trophies and titles.
This will be a fun year to go through and see how the XC team will do this season from being mostly remote last year, to the new time schedule to affect their meets and practices, and the loss of some very good runners from the class of 2021.
In the end, cross country is purely dependent on the player and the strength of its team. You'll face injuries, stressful time management and you can go far but not until you put yourself there through practice and dedication. There is a point though where we have to stop and think. What is the point for all these practices to strengthen them if they just keep getting hurt one practice or another.
If you're interested in seeing cross-country's next meet to see the team and their trials, come down to the Clovis invitational in October.