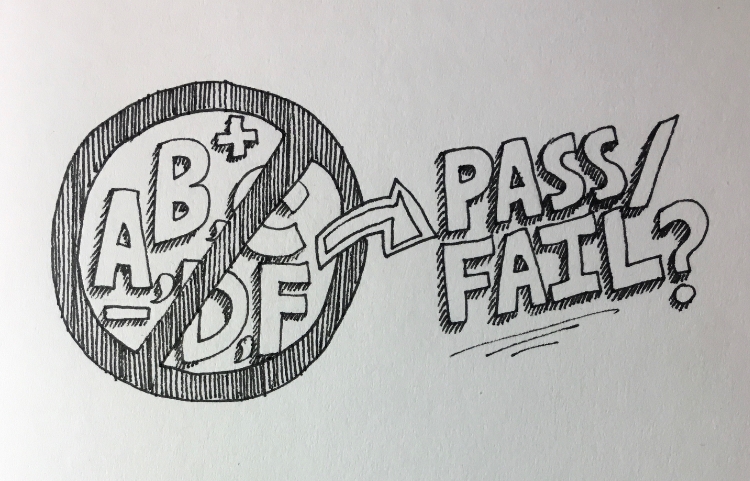 Galen Adolph
402 days after all Claremont schools shut down last spring, CHS reopened on April 19th for students who were willing to attend hybrid learning. Following the chaos of half in-person and half-distance learning, CHS recently offered a pass/ fail option for both second and first semester grades. Pass/fail grading means that students who select pass/ fail and earn either a C or above as their letter grades, will be marked with a P for pass. Students who get a D letter grade or below will be marked with an F, for fail—meaning report cards will not say the actual percentage a student received in a class, just whether they passed or failed. By implementing this (optional) grading scale, CHS is following the lead of both the Cal States and UC schools that announced they are accepting pass/fail grades for those who were in high school during the 2019-20 and 2020-21 school years. Those interested in this must fill out the request form by mid may.
Whether pass/fail grades are hurtful or helpful to students is very situational and controversial. Many upperclassmen have expressed hesitancy about asking for pass/fail grades in case the colleges that they are interested in or committed to ask for second semester grades, or because not all colleges have the same view of this as the UCs and Cal States. However, for freshman and sophomores, some would be bettering their GPA by accepting the pass/fail. This is because pass/fail grades are not added to the average of a students GPA. For example, if a student had 5 As and one C, but was marked as a pass for the C grade, they could have a 4.0 GPA, as only the As would be averaged out. CHS students Ashley Brang, Zadie Sowers, and Lukas Gamans weighed in on their thoughts on the option.
"I have mixed feelings for the pass/fail, because if I don't pass then I have a fail on my record and if I get an A then I feel like I don't get recognition for the effort," Brang said.
Others, like Sowers, feel like they will be more ambitious about improving if they can see their grade percentage. Although both students recognized the importance of students having a choice in the matter.
"I think it (the school providing the pass/fail option) made people more calm … and maybe eased panic," freshman Zadie Sowers said. "I will not be choosing pass/fail. I'm a very ambitious person so knowing that… I can see my grades works better for me."
Gamans shared opposite thoughts about motivation and staying caught up. For him, there is less stress that comes with a pass than with a specific letter grade.
"I was happily surprised when I found out about pass/fail grades," said Gamans. "I would choose pass/fail for a couple classes, for example, English. I struggle in english so I think pass/fail would make me more motivated to complete my work and get that passing grade."
Gamans also mentioned that towards the end of what will hopefully be the last pandemic school year, it only makes sense to give students the pass/fail option. He explained how moving away from mandatory letter grades eases the stress on students, and makes the last few weeks of school an overall better experience.
Although not all students will benefit from pass/fail grades, what matters is that CHS is giving students the option and an opportunity to do so—as grades during the pandemic are hardly an accurate reflection of a students work ethic and intelligence. Hopefully this will bring some peace of mind to at least a handful of students after this peculiar year.