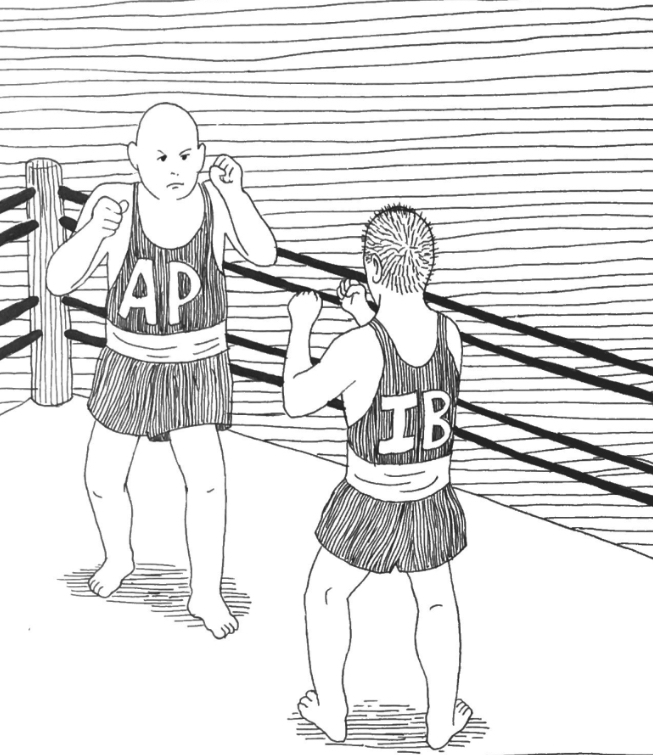 Galen Adolph
The AP and IB curriculums are looked upon by many CHS students as well as students across the country, as the gateway to a better GPA and a stronger college application as a result. These programs, affected greatly by COVID-19, are expected by many to adjust to the country's current climate. The purpose of both programs certainly has not changed, but they have seen changes, some even drastic, due to the COVID-19 pandemic.
IB prides itself in being an academic program that takes a deeper dive into the subjects taught in classes and encourages higher level thinking. With a larger focus on in-depth learning, the in-person factor is crucial in maintaining the higher level of quality that the program is known for. Unfortunately, with the potential for students continuing virtual learning for the remainder of the year, teachers and coordinators have had to make a lot of adjustments. IB Coordinator Natalie Sieg noted that the program's curriculum has been slimmed down by 30% on average as a result of the changes.
"There's certainly a lot less curriculum being taught," Sieg said. "But I think every teacher is trying their best to make sure they continue to teach an IB education that is rooted in approaches to learning and the learner profile and global-mindedness that has a balance in a broad framework."
Sieg, who teaches IB Psychology SL (Standard Level), has found difficulty in replicating the rich conversations and questions that the class is founded upon. The Zoom platform makes it a lot harder for students to immediately connect at the start of the period and once the class flows into full effect, they run out of time.
The assessments themselves have been altered quite a bit. IB assessments used to look a lot like essays, which required students to practice the in-depth skills and learning they have been accumulating over the semester. The IB will check in with schools across the world on the state of the area concerning the pandemic. If the risk is small enough to inspire confidence within the IB coordinator and the school, students can take the exam in-person in May. If not, which is a likely possibility, the teachers and the students know exactly what the protocol is.
"In this case, if we can't sit for exams, the teachers have been giving mock versions of the exams all year and it's the teacher's job to say, 'Every time this student took an exam, they got around a 5 or a 6,'" Sieg said. "Then we submit those grades plus their internal assessment and then IB issues a grade based on that plus some historical data. They do a bunch of algorithms and calculations and that's how we come up with a score. Students do get credit for having taken the exam, but it's based on different criteria."
In contrast to IB, AP has not seen as many drastic changes to the curriculum. Some may note that the program's ability to adapt to virtual learning's cut and dry nature, is a result of the fact that it is not as heavily reliant on that in-person element that IB is largely based upon. The College Board, which created the AP program, has fully moved the exams online and the exams themselves were created to be free response in nature and only 45 minutes in length. Multiple choice questions were not used at all in May's edition.
CHS senior Mohammed Maarouf, who is in his second year of taking a hybrid schedule of 1 IB class and the rest being AP, had seen a major shift in emphasis in AP classes, along with some additional changes in the mix.
"Almost all AP classes I've taken pre-pandemic have placed an emphasis on collaboration," Maarouf said. "For example, dozens of students used to come together and create a study guide for APUSH all with a common goal. Or, inside the classroom, there is a powerful social environment where you feel encouraged to get help or aid your peers. This has been lost in breakout rooms. In terms of coursework, a lot more AP classes have become open note or open book which obviously makes exams a lot easier. Not just that, I've felt like this year has eliminated a lot of the busy work associated with AP. At the end of the day, teachers are required to teach the same content whether a pandemic exists or not; the only real issue is finding a way to direct your focus in a learning environment that is your own home."
Despite some of the changes that the College Board and AP teachers have made for the year, some students wish there were more steps taken to adjust to the current situation.
"Because the virtual environment is a lot different than anything we've ever experienced, there should have definitely been more changes," CHS junior Will Emerson said. "But I feel like for the most part, the teachers have done a good job adapting in terms of material and workload."
Emerson also noted that AP is more suited for Zoom classes than IB due to the faster speed at which the classes go. He also lauded the AP teachers for their adaptability to the new circumstances.
Regardless of which program students are a part of, there's still the worry students may get an intense workload that they may not be able to handle. CHS teachers with IB classes have taken initiative to address this issue, being aware of the incredible amounts of stress many students may be under, whether it be due to school work or the pandemic itself.
"Certainly, we at Claremont High School have a policy of balance and supporting the students, so any time a student needs more time or works on something a little bit later, we typically give that and work with them to support them," Sieg said. "Everything from parent phone calls to student phone calls to one on ones where we can kind of work on things. Overall, the IB students have said that they found that their teachers are super supportive and are really helping them make sure they turn things on time and if they're not on time, still accepting them. At the end of the day, we know that these kids have a lot of assignments."
This is an unprecedented time for everyone, including teachers, and the changes that many are undergoing are new experiences that no amount of traditional education could have prepared students for. For IB, Sieg does not see any permanent changes to the program in the long run, but only time will tell if that is true. Universities are still willing to accept AP and IB grades, even if they are built upon altered circumstances. One day, AP and IB students and teachers might look back at these strange few months and study and try to truly understand it for years to come.