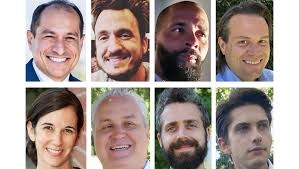 Courtesy of Claremont City Council
The first district-based election for Claremont City Council will be held on Nov. 3, 2020. In February of 2019, Claremont decided to transition to a district-based election system; meaning for all future elections, voters' candidate options depend on their assigned district, which is determined by geographical location. This upcoming election will choose two council member district seats from District One and District Five. District One covers the southernmost part of Claremont, while District Five covers the northernmost part of Claremont and the area between Mountain Avenue and Indian Hill Boulevard.
District One Candidates
Christine Margiotta:
Christine Margiotta has spent the last 20 years advancing change for issues regarding homelessness, mental health, LGBTQ+ rights, and economic and racial injustices. If elected, Margiotta would like to develop a balanced and sustainable city budget, and refine the ability to respond to residents in emergency situations, by granting responsibility to the human services team in situations involving matters such as homelessness and addiction. In addition, she would like to secure renter protections to help prevent homelessness and provide local businesses with the tools needed to build a successful future. Margiotta believes she can navigate Claremont through this time of crisis, while simultaneously improving the future.
"I have the skills, commitment, and courage to lead us into a future that will be far more sustainable for our residents, our city, and our region," Margiotta said.
Corey Calaycay:
Corey Calaycay is currently serving his fourth term as a Claremont City Council member. Years past, Calaycay served three one-year terms as Claremont Mayor. During his time as a City Council Member, he assisted in expanding the Wilderness Park, improving the Village, bringing in new businesses, and making Foothill Boulevard pedestrian and bike-friendly. If reelected, his goal will be to continue to show support towards citizen-driven change. In this time of economic struggles, political turmoil, and the COVID-19 pandemic, he believes the city needs his experience, as he is the only candidate who has served city-wide.
"I never forget that I work for you," Calaycay said in his candidate statement. "I stand for honesty, integrity and transparency in government; fiscal responsibility; and citizen-driven policy."
Zach Courser:
Zach Courser is currently a professor of public policy at Claremont McKenna College, along with serving as a board member for the Pilgrim Place and Heritage Claremont. If elected as a city council member, Courser would like to prioritize inclusive housing, sustainability, protecting small businesses, and increasing trust within the Claremont community. He plans to achieve this by implementing diverse housing options, reintroducing Sustainability Report cards, encouraging the use of solar power, and restructuring Claremont's approach to finances. He concludes that his new leadership and ideas are needed in this time of uncertainty.
"I want to help us see the road ahead, close the widening city budget deficit, provide services our residents depend on, and help our city live up to its core values of inclusiveness, respect, and equality," Courser said in his candidate statement.
Ethan M. Reznik:
Ethan M. Reznik is the Journalist Coordinator for the Fallen Journalists Memorial Foundation, and recently graduated from Occidental College. Over the last four election cycles, Reznik has worked on multiple democratic campaigns. As a lifelong Claremont resident, he admires the strength of the Claremont community, and the new era of young leaders, placing a spotlight onto racial and economic injustices.
"Although the coronavirus pandemic has put this strength to the test, I am confident that with fresh, proactive leadership, we can make it through this crisis and work to build an even stronger future." Reznik said on his campaign website.
With Reznik's fresh sense of leadership, he would like to implement solutions for issues such as homelessness and mental health, the housing crisis, policing, and the impact of the pandemic on Claremont's senior population. He plans to do this by increasing the housing intake of those who are unsheltered with mental illness, subitizing housing, working with neighboring cities to form a first-responder program for low-risk situations, and ensuring the safety of the senior population. Reznik would also like to find ways to cut costs in response to Claremont's structural deficit, such as contracting out certain routine tasks, while continuing to explore additional revenue sources such as new businesses.
District Five Candidates
Silviano "Sal" Medina:
Silviano "Sal" Medina worked as an educator in past years, however, now he owns and runs Packing House Wines with his wife Evelia. Medina was an active Claremont Chamber of Commerce Board Member and Chairman, and was presented with Congressional Recognition as the Business Person of the Year (East) for the 27th District in 2017. His goals as a Claremont City Council member include promoting community engagement, establishing a strengthened local economy, and making Claremont safe for all.
"As a former school teacher, I have experienced the impact a positive role model can have on future generations and have always strived to lead by example," Medina said on his campaign website. "I have been and will continue to be a proactive resident of the city."
Michael Ceraso:
Michael Ceraso is a Pitzer College graduate, and a current beat writer for the Claremont Courier. In 2019, Ceraso launched Community Groundwork. This initiative allowed students to pursue newfound opportunities rallied to political or advocacy work. Ceraso used input from hundreds of community members to create his first term policy foundation, which contains matters relating to COVID-19 and mental health, community safety, the culture within Claremont, and economic growth.
"For every resident, I'll be there for Claremont to not only recover from COVID, but also ensure our community can thrive for generations to come," Ceraso said in his candidate statement.
Donell Clark:
Donell Clark is the marketing and admissions director for a memory care provider, Oak Park Manor. Clark would like to develop change within Claremont's memory care community. To better the community, Clark would like to adjust the amount of Assisted Living Waivers in Claremont.
"There are so many Claremont residents who cannot afford to have the family member, who has memory issues, live in the same city they raised them in," Clark said.
Clark believes the City Council needs his representation of Claremont's diverse and hardworking community. During this upcoming election, he hopes to see residents unite and stand up for the good of the people.
Bennett Rea:
Bennett Rea has a background as an environmental professional, and is currently a stay at home father to his infant daughter. Rea has volunteered at progressive organizations, and planned fundraisers for nonprofits with the following goals: achieving food justice, eliminating the racial wealth gap, and educating unserved children on the environment. He has developed a policy platform regarding racial and economic injustice, increased sustainability, and a plan to defund the police to re-fund human services, such as homelessness prevention and mental health services. Rea would also like to prioritize community input.
"We need to be reaching out to those who are unheard, underrepresented, and feel overlooked," Rea said. "I believe it's my job to come to you, a resident of Claremont, not always the other way around."
It is important to remember the significance local elections hold. With the presidential election also soon to occur, voting opportunities surrounding local politics have become overlooked. The City Council election matters greatly, for it will impact both the present and future state of Claremont. Many CHS students have expressed concerns regarding police presence on campus, and would like to see an increase in racial equity within the City. Since the City Council is essentially Claremont's legislative branch, it holds the power to propose and pass city-wide laws. This means solutions in regards to those matters can be discussed and implemented by Council Members.
The City Council is also responsible for budgeting and other fiscal matters. Numerous citizens would like to see Claremont evolve into a more affordable, inclusive, or sustainable city to live in. City Council is capable of leading Claremont to this desired goal. To start seeing wanted change in Claremont, when Election Day comes on Nov. 3, 2020, it is important for all citizens who are eligible to vote choose to do so.