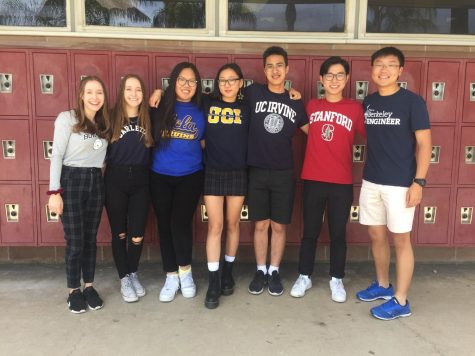 Usually when someone is seemingly flawless and everything they touch turns to gold, there is typically at least some minute problem that they have, or some activity or subject that they find difficult. Or, maybe, they are not humble when they speak of their outstanding achievements. This is not the case with Jack Xiao. The CHS senior and Stanford commit manages to excel in virtually every aspect of life while staying unbelievably humble. An IB Diploma candidate, Xiao's two major extracurriculars are speech and debate and piano; he has participated in the speech and debate team since eighth grade and has played piano for thirteen years, since he was five.
Xiao first joined the speech and debate team his seventh grade year, but he was originally deterred by his lack of talent in the activity. However, after being tricked by his mother to sign up for a private coach, he stuck with it and rejoined in eighth grade.
"Naturally the more involved you become, the better you become and the more comfortable you become with public speaking and persuasion," Xiao said. "Debate has really changed me from a shy seventh grader who literally didn't talk to anyone to someone who can actually communicate ideas… It has definitely become a huge extracurricular."
Over the years, with a lot of dedication, Xiao transformed from a "shy seventh grader" and someone who "sucked at" speech and debate to a three-year all-league individual sweepstakes winner. His freshman year, he placed seventh at state in oratory, and last year, he came 31st in the nation for oratory — he must have quite the trophy case, or at least a large section of shelf dedicated to them. Amidst these amazing feats, Xiao emphasized that being on a team that won league three out of four of the years he spent at CHS, and captaining it this past year, has been even more significant than his individual achievements.
Far from a mono-extracurricular talent, Xiao has made noteworthy accomplishments in piano as well as speech and debate. To touch on his exploits in piano, he has held an annual concert since the seventh grade, raising $1,000-$2,000 each time for the Claremont Community School of Music, and he participates in competitions whenever he can. On YouTube, one can watch a few of these performances and verify that Xiao is a spectacular pianist. Piano is also what Xiao does to destress at the end of a long day. So, with his undoubtedly burdensome workload, being a part of the IB program and speech and debate, it is easy to understand why Xiao is such an outstanding pianist.
After graduation, Xiao will compete in the national speech and debate tournament, and in the fall, he will attend Stanford, a longtime dream school of his. After that, Xiao has a general idea of what he wants to pursue career-wise. He is currently deciding between computer science and management science. A major goal of his is to start his own company, if he decides to get an MBA business degree. The company would combine three areas of study that interest Xiao, engineering, technology, and business.
"I know that I do want to do something big," Xiao said. "But, I'll see where life takes me, at this point. I'm just playing by ear."
Initially envisioning himself going into engineering or another technical field like his mother, Xiao added business to his ideal area of focus after attending a prestigious entrepreneurial summer program at Northwestern University called Launch X. Xiao believes If he can get a background in both engineering and business, it will give him the best opportunity to make a positive impact on the world. For his business, he mentioned data science and optimization (improving system and company efficiency) and something to help combat climate change as potential specializations. Whatever Xiao ends up doing or creating, CHS can count on it being brilliant (no pressure), and students will be sure to miss Xiao's annual concerts, while administrators will remember the steady stream of trophies Xiao brought in for the school.