Queen Danny D departs CHS for medical school and dance career
A little over a year ago, the Wolfpacket sat down with then junior Danielle D'Arcangelo, better known as "Queen Danny D," to discuss her experience as a Wolf Gang captain, full IB diploma candidate, and pep rally phenomenon. In the interview, she expressed her desire to pursue a career in both medicine and stripping someday, after her high school glory of being hailed as royalty.
Now, even before officially graduating high school, D'arcangelo is living out both her dreams. While working full time at a hospital in Chino Hills as an assistant and experiencing the impact of COVID-19 first hand, she is practicing pole dance technique to audition at a local strip club; something she had planned to do before it had temporarily shut down due to social distancing guidelines.
"I want to change this idea of how dancing is being seen. I want to change this idea, and make it into something empowering, because it is very empowering," D'arcangelo said.
As CUSD closed down its schools in mid March, D'arcangelo was in the middle of moving into her new apartment in Riverside, which she had leased on her own having recently turned 18. For D'arcangelo, this came out of a deep-seated desire to be fully independent, which came with support from her family.
"[My family] is supportive of me, they may not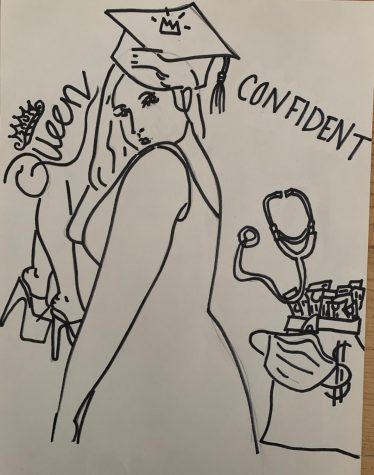 completely agree with [living on my own], but they don't judge me or stop what I'm doing," D'arcangelo said. "And, if they did judge me, I wouldn't care, because I'm paying my own bills."
D'arcangelo plans on taking next year as a gap year as she continues her work at the hospital while pursuing dance. In the long term, however, she plans on moving to the east coast for college, going to medical school, and, years from now, opening her own "Queen Danny D" night club.
"I plan on [continuing to dance through medical school] because I want to make sure that I can continue to provide for myself, and that is fortunately a very successful way for providing for myself," D'arcangelo said. "I don't want to go through college broke as hell."
While being a school-wide celebrity and controversy has come with ups and downs for D'Arcangelo, she has ultimately expressed gratitude for her experiences on campus over the last four years, where she has received constant support from peers, teachers, and administration, while being able to express herself through Wolfgang.
"CHS really helped me, it was my stepping stone to finding out who I am," D'Arcangelo said.
D'Arcangelo also has a very active presence on Instagram, where she regularly posts videos giving advice to her followers regarding a wide array of topics. Having gotten so much out of CHS, she also has advice for freshmen.
"Go into high school, don't focus on the drama, don't focus on the hate, or even focus on your friends," D'Arcangelo said. "I would go in there focusing on yourself, and working on yourself. Like, go into high school with a goal of 'I'm going to get through these four years and I'm gonna come out better.'"
Known for her striking confidence, D'Arcangelo has also expressed gratitude to everyone at CHS, whether they support her or not.
"Thank you to my haters, too, because, honestly, it was a learning experience and it does not bother me, because anyone that cares enough to talk about me just hypes me up more," D'Arcangelo said. "And thank you to everyone that supports me."