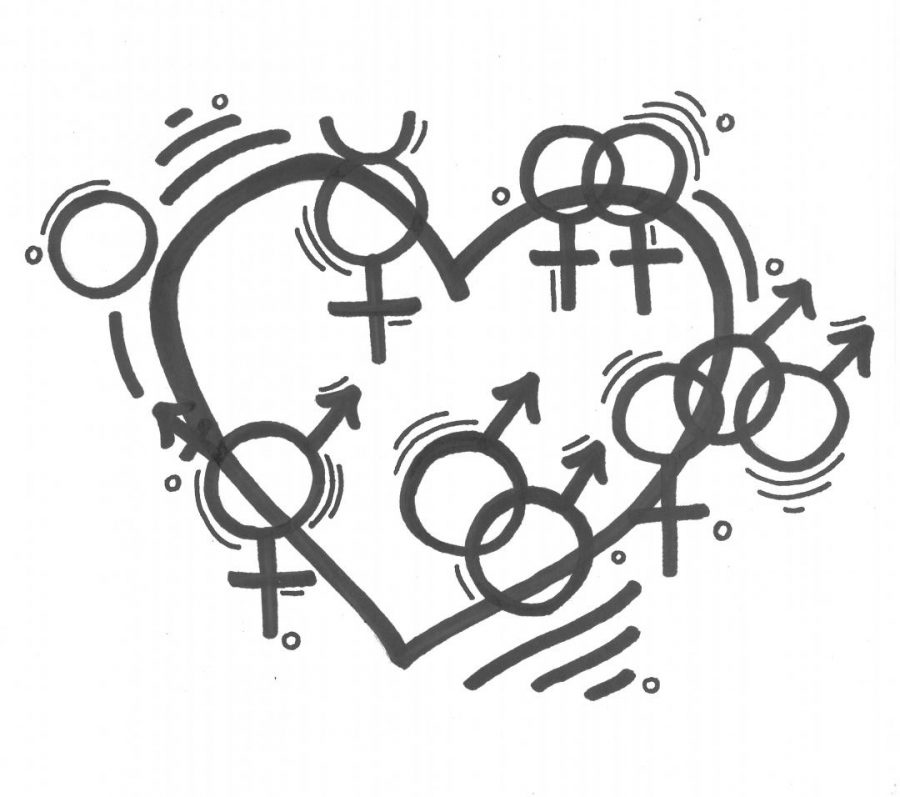 Kay Oken
Walking down the halls of any high school, one is likely to hear the words, "No homo!" or, "If you're wearing socks it's not gay!" Hearing these phrases and the stigma surrounding the LGBTQ+ community can make high school a very terrifying and unaccepting place for queer students. On top of this, there is little representation of LBGTQ+ relationships throughout high school English curriculum. However, CHS has made steps to ensure that the queer community feels safe and accepted on campus. CHS hosts an active Gender-Sexuality Alliance club (GSA) and integrates queer identities and sexual relations into the sex education curriculum on campus. Before this addition, sexual education programs at CHS, much like most nationwide, did not include education or regard of the LGBTQ+ community, sexual relations, or identities. Thus, CHS is taking a leap forward to provide a safe and educational space that is inclusive of all sexual or gender orientations.
For years on end, CHS has hosted GSA as a club serving as a safe space for all queer students to feel welcome to share experiences and emotions surrounding their sexuality or gender identity. Furthermore, GSA builds a positive community of friends supporting and accepting each other regardless of sexual or gender identity. GSA used to stand for "Gay-Straight Alliance," however this was changed to "Gender-Sexuality Alliance" within the past five years, as it is a club welcoming anyone in the LGBTQ+ community, rather than just gay students. Beyond this, GSA is welcoming of any ally of the queer community, whether someone would like to learn further about the LGBTQ+ community or simply support it.
Through the years, GSA has grown and evolved immensely on the CHS campus, but what has stayed consistent is the welcoming environment it provides for queer students on campus. GSA is important to queer students as it gives them a safe space to feel accepted, especially taking into account that many might not feel the same acceptance at home.
"Having this support network has been a great thing for me," junior Kellin Olsen, current president of GSA, said. "We need to be able to have a safe space where everybody feels like they belong, where they always have someone to depend on regardless of any orientation."
Furthermore, high schools across America have a tendency to gloss over queer relationships and identities in sexual education. Many sexual education programs, sex-positive or not, neglect educating youth about LGBTQ+ identities or sexual relationships. Because high school is the time when many students figure out their sexuality and gender identity, CHS has recognized that it is essential for high schools to educate students about such relationships, so queer students feel safe and knowledgeable.
"The book we were provided in sex ed when I was at CHS basically only provided the option of abstinence. No queer relations or identities were discussed," Robyn Swift, former CHS student and president of GSA in 2014, said. "It would've been a great experience for me as someone questioning their sexuality to have seen LGBTQ+ relationships represented in sex ed back then."
Within the past few years, a team of biology teachers and department members at CHS held meetings that reformed the sexual education program CHS follows, a result of the "Teen Talk" sexual education program, a California mandated curriculum. CHS teachers now educate about the different sexuality and gender labels one can use beyond "straight" or cis-gendered labels. Queer identities were also normalized and represented in the Kaiser Permanente play "What Goes Around," as one of the main characters is gay.
"I believe there is a strong interest in mental health at CHS. Everyone should feel that they are in a safe space," CHS biology teacher Mrs. Fong said. "If you are a person questioning your sexual or gender identity and nobody is discussing anything related to queer identities or relationships, you feel like you don't have a home. That's why it is important for these LGBTQ+ orientations to be talked about in sex ed, so every student feels welcomed and walks out educated."
CHS, unlike many high schools across America, has made genuine steps to accept and represent the queer community on campus. These steps have given the LGBTQ+ community a sense of belonging and safety at school, something many queer students do not feel they receive at home. Additionally, students are now better informed about queer identities and sexual health, providing a safe and educational space for all students regardless of orientation.