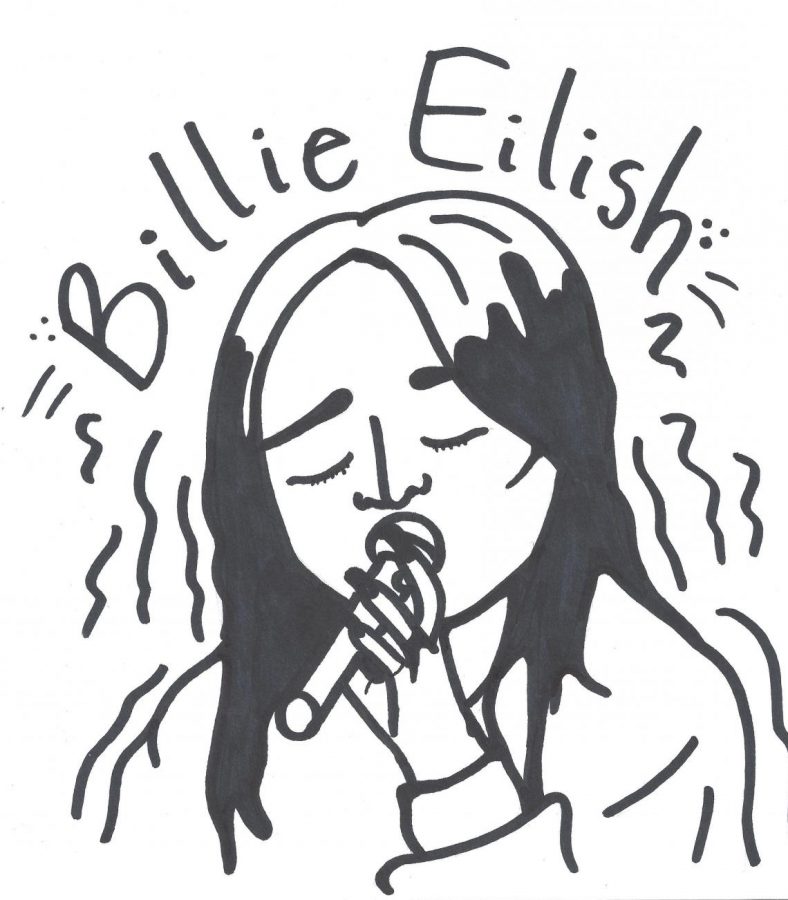 The Grammys have been a celebrated music awards show since 1958, drawing millions of fans watching hopeful artists waiting for their names to be announced. With a mix of live performances, comedic hosts, and emotional acceptance speeches, the Grammys have been a time-honored tradition. With notable nominees such as Billie Eilish, Lizzo, Tyler, the Creator, Lil Nas X, and many other creators, this year's nominated artists caused quite a stir within the music community.
As Billie Eilish walked off stage with five Grammys weighing her down, it was clear to everyone watching that she was nothing short of a "good" guy. Standing in a glistening, neon green and black baggy outfit, with long green nails and bright hair to tie it all together, the 18-year-old breakout star Billie Eilish picked up a total of five Grammys on Jan. 26, 2020. Winning the legendary Album of the Year, Record of the Year, Song of the Year, Best New Artist, and Best Pop Vocal Album awards, Eilish became the first woman and second artist (the first being Christopher Cross) in history to sweep all the major music award categories. In addition, Eilish became the youngest artist in history to receive the Song of the Year, Album of the Year, and Record of the Year awards.
"Why?" Eilish said in her acceptance speech for her song "Bad Guy," which won the Song of the Year Grammy. "Wow, wow, wow, wow, wow, wow. Oh, my God. So many other songs deserve this. I'm sorry. Thank you so much."
While most music critics and fellow artists believe Eilish to be humble and utterly deserving, some think she is too young for this amount of recognition. In every one of her speeches, Eilish expressed her disbelief and gratitude towards winning each Grammy, taking a surreal and humble approach. Before her fifth win was announced (Best Album of the Year), Eilish was seen mouthing the words "Please don't be me, please don't be me." While 2019 brought her so much success, it was refreshing to many to see such a famous celebrity be so humble.
"Can I just say that I think Ariana deserves this?" Eilish said. "'Thank U, Next' got me through some s**t, and I think deserves this more than anything in the world. I love you, thank you so much. I'm not going to waste your time."
Another break-out star of 2019, Lizzo, opened the Grammys with a jaw-dropping performance. Her mash-up performance of "Cuz I Love You" and "Truth Hurts," accompanied by an orchestra and ballerinas, brought the house down, receiving a standing ovation from the audience. Additionally, Lizzo was the most nominated artist of the night, receiving eight nominations and bringing home three Grammys. Lizzo took home the Best Traditional R&B Performance for "Jerome," marking her first-ever Grammy win. Shortly after, she also won Best Urban Contemporary Album for her album "Cuz I Love You," and Best Pop Solo Performance for her hit song "Truth Hurts." Coming from a background of living in her car to shattering conventional beauty standards surrounding plus-sized artists, Lizzo's success at the Grammys defied many social standards, establishing her presence as a destinguished artist.
In a mind-boggling, twisted and utterly weird performance, Tyler, the Creator left a unique stamp on the Grammys this year. Dawning an iridescent wig, complemented by a white and dark pink suit, Tyler, the Creator delivered one of the most out-there performances the Grammys have ever seen. Mind-bending, free-form zombie movements, wild-eyes, and fiery illusion perfectly embodied Tyler's weird, individual creative vision in his performance of "EARFQUAKE / NEW MAGIC WAND." While winning Best Rap Album for his album "Igor," Tyler's most memorable moment came in a post-Grammy interview.
"I'm half and half on it," Tyler said. "On one side, I'm very grateful that what I made could just be acknowledged in a world like this. But also, it sucks that whenever we, and I mean guys that look like me, do anything that's genre-bending, they always put it in a 'rap' or 'urban' category…I don't like that 'urban' word. To me, it's just a politically correct way to say the N-word. Why can't we just be in pop?"
This comment shed a light on many unheard opinions within the music community regarding race and the whole idea of musical genres. Many were inspired by Tyler's courage to come out and address how much race affects society's perception of musical categories. Breaking both the standards of "normal" performance/music and shattering societal boxes of musical genres, Tyler, the Creator will forever be recognized for his individuality.
Whether one relates to Billie Eilish, Lizzo, or Tyler, the Creator, the theme of the 2020 Grammys defied societal standards of age, beauty, and musical genres. While this year's Grammys were one of the least viewed in history, it simultaneously stands as one of the most important, especially for high school students. It is crucial to see a vast range of successful creators shattering the status quo. Thank you to every artist brave enough to take a stand and create a diverse musical community for generations to come.